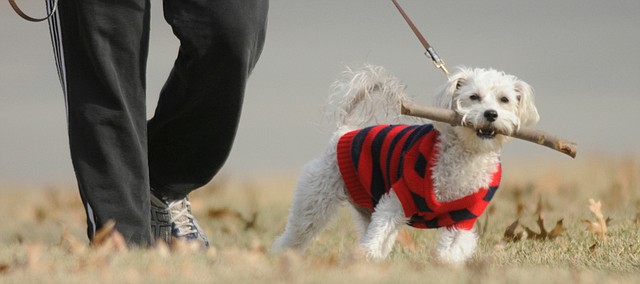 Tuesday, December 30, 2014
Today in Lawrence
is an early-morning digest of essential and not-so-essential info to start your day in Lawrence and Douglas County.
Click here
for past installments.
We're in for it
All these temperatures in the 40s have not prepared us for what's hitting us today: A high of 22 degrees and a low of 4, with a 20 percent chance of snow during the day. The day will be cloudy with a little bit of sunshine here and there, but it won't help warm things up much. Wednesday will stay cold, with a high of only 25.
Commission to meet
The Lawrence City Commission will meet this morning, and the commission will cover only consent agenda items only, meaning these are items that can be voted on together without discussion or comment. The meeting is at 9 a.m. at City Hall, 6 E. Sixth St.
Sing out loud
Do the holidays leave you wanting to sing your heart out? Dust off your pipes for Tuesday Karaoke Night at Wayne & Larry's Sports Bar & Grill, in the Hillcrest Shopping Center at Ninth and Iowa streets. Karaoke starts at 9 p.m. and there are drink specials throughout the evening to give you the liquid courage you need to stand up in front of a room and sing!
Yesterday's most-read
More Dec. 30 events
Red Dog's Dog Days workout, 6 a.m., Allen Fieldhouse (second floor, south side), 1651 Naismith Drive.
Cottin's Hardware Farmers Market - Indoors! 4-6 p.m., Cottin's Hardware and Rental, 1832 Massachusetts St.
Big Brothers Big Sisters of Douglas County volunteer information, 5:15 p.m., United Way Building, 2518 Ridge Court.
Lonnie Ray's open jam session, 6-10 p.m., Slow Ride Roadhouse, 1350 N. Third St., no cover.
Gamer Night, 8 p.m., Burger Stand at the Casbah, 803 Massachusetts St., free.