Wednesday, December 31, 2014
Experiencing a bit of a post-holiday letdown? Cheer up — with an exciting mix of concerts, theater and perhaps a ghost sighting or two on the horizon, there's plenty to do in Lawrence this winter.
Here are a few ideas to kick off 2015 with a bang. Now, get out there and embrace the New Year. It could be your best yet.
Take a class and unleash your creativity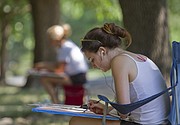 Make good on those New Year's resolutions by continuing your education. Browse the Lawrence Arts Center's roster of classes (visual arts, dance, theater, film in music) at the Lawrence Arts Center's website or call 843-2787.
Reboot your health (and your love of cooking) with the "New Year New You" culinary course Jan. 8 at The Merc (901 Iowa St.) taught by holistic nutrition coach Karen Duggan. Call 843-8544 to enroll.
'Vonya and Sonia and Masha and Spike'
This 2013 Tony Award-winner for best play, inspired partly by the works of Anton Chekhov, revolves around the lives of three middle-aged siblings named — you guessed it — Vonya and Sonia and Masha (and Spike, Masha's twentysomething boy toy). The comedy will run Jan. 16-25 at Theatre Lawrence, 4660 Bauer Farm Drive. Purchase tickets at theatrelawrence.com.
'Jayhawkers' screening
In case you missed it, catch "Jayhawkers" at the Lawrence Public Library, 707 Vermont St., at 2 p.m. Jan. 17. This locally made film explores how basketball legend Wilt Chamberlain helped break down racial barriers as a student athlete at Kansas University during the 1950s. After the screening, KU film professor and "Jayhawkers" director Kevin Willmott will participate in a Q&A.;
'Pies From the Porn Kitchen'
Leave the kids at home for this one. "Pies From the Porn Kitchen," a "ribald urban comedy of pie porn enacted" written by Kansas City actress Natalie Liccardello, will debut Jan. 22 at the Lawrence Arts Center, 940 New Hampshire St. As you may have guessed, the play does contain nudity. For more information, visit the Arts Center online.

'Kiss the Fish'
Take a trip to a tropical South Asian island with the Indian Ink Theatre Company's "Kiss the Fish" Jan. 27 and 28 at the Lied Center, 1600 Stewart Drive. Inspired by the true story of a luxury resort abandoned by humans and inhabited entirely by monkeys, the production features live music, puppetry and Balinese masks.
Kawehi at the Bottleneck
Kawehi, the one-woman band and one of Lawrence's most interesting people of 2014, will return home in the midst of her national tour to perform Jan. 23 at the Bottleneck, 737 New Hampshire St. The show, which will also feature Mouth and Wrong Kata Trio, starts at 8 p.m.
Transformations Charity Gala
Watch as 10 area women compete for local charities of their choosing in a pageant like no other Jan. 24 at Liberty Hall, 644 Massachusetts St. As in years past, each contestant is paired with a female impersonator to guide them through the competition. Tickets are $35, and can be purchased online at transformationslawrence.com.
Dueling Divas
Theatre Lawrence, 4660 Bauer Farm Drive, will host a glitzy event Jan. 31 featuring local singers — the titular Dueling Divas — competing to see who can raise the most money for Theatre Lawrence. Tickets cost $60 (or $75 for premium seating), and include an hors d'oeuvres buffet, wine and cocktails. Reserve seats by calling 843-7469.
Souper Bowl Saturday
Get a head start on holiday shopping for next year — or just stock up on bowls for your kitchen cabinet — at the annual Souper Bowl Saturday from 11 a.m. to 2 p.m. Jan. 31 at the Lawrence Arts Center. The event, which benefits visual arts education at the center, will feature hundreds of handmade bowls made by local artists, community members and students. Prices start at $10, and each bowl purchased comes with a serving of soup, fresh baked bread and a drink.
Margaret Atwood
Margaret Atwood, the renowned writer and activist behind such works as "The Handmaid's Tale" and "Cat's Eye," will visit Kansas University on Feb. 2. Atwood will deliver the Kenneth A. Spencer Memorial Lecture at 7 p.m. in the Ballroom of the Kansas Union, followed by a book signing and reception. The event is free and open to the public.
Nick Offerman
"Parks and Recreation" fans, rejoice: actor Nick Offerman, known for his portrayal as manly man Ron Swanson on the TV sitcom, is set to perform in Lawrence on Feb. 12. Tickets are $10 for those with a SUA Student Saver card, $20 for KU students with ID, and $30 for the general public. Purchase tickets online through the Lied Center at lied.ku.edu or at the Lied Center box office.
Lawrence Ghost Tour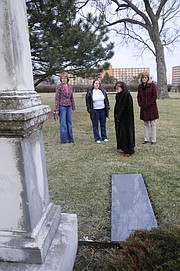 Looking for an unconventional date idea? On Feb. 13 (yes, that's Friday the 13th), take your Valentine on a Lawrence Ghost Tour. All tours (which last approximately two hours) embark from the lobby of the historic Eldridge hotel and venture out to several spooky spots around town, including the Haskell Cemetery and Sigma Nu fraternity house. Purchase tickets online at ghosttoursofkansas.com.
'Clybourne Park'
Theatre Lawrence will debut its production of the "Clybourne Park" on Feb. 27. The Pulitzer Prize-winning 2010 play "explores the fault line between race and property." Tickets go on sale Feb. 9.
Young the Giant at Liberty Hall
California-based indie rockers Young the Giant will make a stop March 5 at Liberty Hall. The band released its second album, "Mind Over Matter," in January 2014. Tickets for the all-ages concert cost $25 in advance and $28 on the day of the show and can be purchased at libertyhall.net or at the Liberty Hall box office, 644 Massachusetts St.
Bernadette Peters in Concert
For a dose of pure Broadway glamour, look no further than the Lied Center, where stage-and-screen legend Bernadette Peters is slated to perform March 24. Tickets range from $21 to $65, and can be purchased online at lied.ku.edu or in person at the Lied Center box office, 1600 Stewart Drive.