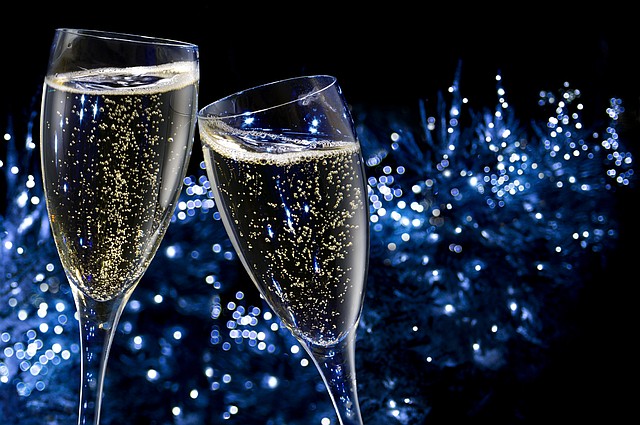 Wednesday, December 31, 2014
Today in Lawrence
is an early-morning digest of essential and not-so-essential info to start your day in Lawrence and Douglas County.
Click here
for past installments.
Brisk New Year's Eve
After a cold, cold night, today will have partly cloudy skies with a high of 26 degrees. As we slip into New Year's Eve festivities, temperatures will drop to 19 degrees for an overnight low. Thursday and Friday are expected to warm up a little with highs in the high 30s and low 40s.
Early show on NYE
What do go out on New Year's Eve without staying out until midnight? Catch The Crumpletons show at Jazzhaus from 7 to 9:30 p.m. The Crumpletons play a mix of '60s rock and funk. Cover charge is $5. The Jazzhaus is at 926 1/2 Massachusetts St.
SELLOUT! tonight
Spend your New Year's Eve in style with SELLOUT! at the Lawrence Country Club, 400 Country Club Terrace. The show starts at 8 p.m. and is open to the public. SELLOUT! gets people dancing to hits from across decades. Be ready to shake it into the New Year! Limited tickets are available.
Go to lawrence.com/events/2014/dec/31/ for more New Year's Eve events.
Yesterday's most-read
More Dec. 31 events
1 Million Cups presentation, 9-10 a.m., Cider Gallery, 810 Pennsylvania St.
Lawrence Public Library Book Van, 9-10 a.m., Brandon Woods, 1501 Inverness Drive.
Lawrence Public Library Book Van, 10:30-11:30 a.m., Drury Place, 1510 St. Andrews Drive.
Big Brothers Big Sisters of Douglas County volunteer information, noon, United Way Building, 2518 Ridge Court.
Lawrence Public Library Book Van, 1-2 p.m., Babcock Place, 1700 Massachusetts St.
American Legion Bingo, doors open 4:30 p.m., first games 6:45 p.m., snack bar 5-8 p.m., American Legion Post #14, 3408 W. Sixth St.
Conroy's Trivia, 7:30 p.m., Conroy's Pub, 3115 W. Sixth St.
Pride Night, 9 p.m., Wilde's Chateau, 2412 Iowa St.