Our photo staff spent last week looking at photographs of naked bicyclists, a roller coaster partially submerged in the Atlantic Ocean, New Jersey governor Chris Christie impersonating Elvis, and a traffic jam in Fort Lee. Does some of this sound familiar?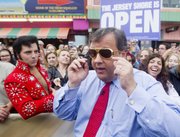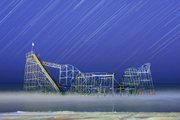 The New Jersey Press Association asked our photo staff to judge its state's newspaper photography contest for 2013. Ten photo categories, including, sports and portraits, comprising about 1,000 photographs, were reviewed. While looking at the images, I couldn't help but be reminded of Dorothy's famous line, "Toto, I've a feeling we're not in Kansas anymore."
Here's a few comparisons of popular Garden State vs. Sunflower State photo contest material:
• Beach scene vs. wheat harvest
• Princeton lacrosse vs. Kansas University basketball
• Hurricane devastation vs. tornado destruction
It was refreshing to see different subject matter photographed by peers. How would I photograph naked bicyclists for our paper? Carefully, probably. Is it even possible to take an interesting photograph of a traffic jam?
I asked these questions as our staff compared the work of other photojournalists as they documented common and uncommon subjects. Photographing the same events, subjects and scenes that you are typically exposed to can make you calloused to a routine, stuck in a rut and fixed in your ways. Like reaching for a bad idiom, your photographs can become redundant 'til the cows come home.
Judging this contest made me more aware of where I succeed in my photography, but it also provided some inspiration and opportunities to steal a few ideas. If your photography is stagnating, here are a few things that can make a difference.
• Study the work of other photographers you admire. Study books by photographers, especially those who shoot subject matter similar to your own. Making comparisons between your images and others can provide insight into what is, or is not, working in your photography.
• Copy ideas from other photographers. Emulating the work of others can provide inspiration and add some creativity to your work.
• Enroll in a photo workshop or class. Being in an environment where everyone else is interested in photography gets the creative juices going. It also brings out a healthy competitive spirit, which makes you want to try harder.
Thanks to all the talented New Jersey newspaper photographers for sharing their good work with our staff. Now I'm going to go ask Gov. Brownback if we can maybe get some funding for a naked bicycle ride here in Lawrence.