Anyone in doubt about whether Kansas City offers world-class arts, music and theater entertainment should take a look at this week's cultural calendar, which features premier soloists, cutting-edge theater and unique art openings. These events also have the added benefit of taking place in well-insulated theaters, where it should be possible to forget about the cold weather for an hour or two.
At the Unicorn Theatre, the one-woman play "Grounded" has made a strong impression on audiences and critics with its depiction of a remote drone pilot who begins to question the morality of her occupation following the birth of her child.
Carla Noack stars in the 90-minute production, which runs nightly (except Monday) through Feb. 9.
Tickets are $27.50 and can be purchased by visiting unicorntheatre.org or by calling 816-531-7529.
On Wednesday evening at 7:30, renowned violinist Gil Shaham will be performing a solo concert at the Folly Theater as part of the Harriman-Jewell Concert Series.
The program includes three pieces by Bach and one suite by American composer William Bolcom. Tickets start at $25 and can be purchased at hjseries.org.
Famed pianist Leon Fleisher will join the Kansas City Symphony this weekend for a performance of Ravel's Piano Concerto for the Left Hand, part of an evening that includes Leonard Bernstein's "On the Waterfront Suite" and Rimsky-Korsakov's evocative "Scheherazade."
Fleisher's story is an extraordinary one, which saw one of the most vaunted careers in American history derailed by a condition that left him unable to use his right hand for decades.
During that time, Fleisher became a conductor and teacher, and he'll also be hosting a piano master class on Saturday at 10:30 a.m. at Helzberg Hall. For ticket information, call 816-471-0400 or visit kcsymphony.org.
Music and dance
On the contemporary tip, SO Percussion, whose music the New Yorker called an "exhilarating blend of precision and anarchy, rigor and bedlam," will be performing at White Recital Hall on the UMKC campus at 7:30 p.m. Wednesday.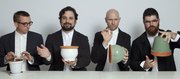 Tickets are $25 and available at musicallianceseries.org.
This weekend at the Muriel Kauffman Theatre, the Störling Dance Theater's Underground will mix history, dance and music in a dramatic performance telling the story of the underground railroad. The show takes place at 7:30 p.m. Friday and Saturday, with balcony seats as low as $20. Tickets for sale at kauffmancenter.org.
An even wider array of regional dance talent will be on display at 8 p.m. Saturday in the 11th Annual "A Modern Night at the Folly," a choreographer's showcase of regional dance talent presented by City in Motion Dance Theater. Tickets cost $15 to $20 and are $25 the day of the event, available online at follytheater.org.
First Friday
While the First Friday art walk in the Crossroads District of Kansas City is typically associated with fair skies and sunny weather, don't tell that to the dozens of gallery owners and art exhibitors who keep First Fridays alive all winter, including this coming weekend.
One of the more interesting openings, however, will be taking place a little farther south, at the Greenlease Gallery on the Rockhurst University campus at 1100 Rockhurst Road (near 54th and Troost).
"Sunday Painter" presents dozens and dozens of works created by the Kansas City Plein Air Coterie, a group of dozens of painters (and non-painters) who have convened every weekend for the past two years to make outdoor paintings, whatever the weather.
Curator Michael Schonhoff will give a gallery talk at 6:30 p.m. and an opening reception will follow from 7 to 9 p.m. The paintings will be on display through March 15.
Frost Ice Festival
If all of this sounds a little high-brow, and you're just looking for a bit of drunken weekend revelry, the Kansas City Power and Light District is more than happy to oblige.
The Frost Ice Festival is a good-spirited attempt to turn the arctic temperatures into a party featuring ice bars, ice luges, ice bunnies and live music, with admission and drink specials to 13 bars covered in a $15 lift pass. Ski attire is encouraged for the fest, which starts at 8 p.m. Saturday. Visit powerandlightdistrict.com for more details.