Originally published February 5, 2014 at midnight, updated February 5, 2014 at 11:51 a.m.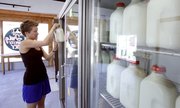 Bad news for Iwig Family Dairy fans. The dairy has suspended bottled milk sales because of an equipment breakdown it can't afford to fix right away.
With the Tecumseh dairy's boiler, the heat source for its operations, out of commission, Iwig can't pasteurize milk or sterilize its glass bottles, owner Tim Iwig said.
However, even without their staple product, the Iwig stores at 622 N. Second St. in North Lawrence and at 724 SW Gage Blvd. in Topeka, will stay open, Iwig said. There's ice cream in the freezer, as well as other local food products for sale.
The boiler "sang its last tune" late last week, Iwig said. "I'd been nursing it along for quite a while, and I could nurse it along no more."
Iwig said the dairy had received several donations through its website, iloveiwig.com, and was trying to gather enough money to purchase a new boiler, or at least a used one. He said he's hopeful he can have the equipment installed and be bottling again in a week.
In the meantime, Iwig is selling his cows' milk in bulk. It's being trucked to Fayetteville, Ark. (he thinks), where it will be mixed with milk from other dairies, pasteurized, bottled or made into other dairy products and trucked out again to grocery stores — a typical large-operation process.
In its normal glass-bottled state, Iwig milk is raised, processed and bottled on site and sold in refundable glass bottles only at the dairy and its Topeka and Lawrence stores. It's also vat-pasteurized, a rarely used low-temperature process proponents say is the next best thing to raw milk for taste and nutrition.
The multigeneration family dairy has been struggling financially for several years. Iwig continues to seek investors to reorganize the business and pay off debts.