Wednesday, February 5, 2014
January and February are not great months. It's cold. It's dark. It's not Christmas or garden season. I try to stay as upbeat as I can, but I'm starting to understand why people retire and move south every winter.
Since retirement is still a long way off for me, there are only two ways to get through: cozy socks and warm drinks. While I can't help you with the socks, for warm drinks there's not much to beat a chai tea.
Technically, saying "chai tea" is redundant, as "chai" is the Hindi word for tea. Nonetheless, in America, the word "chai" is commonly associated with a blend of warm spices like cardamom, nutmeg, cloves and cinnamon. A "chai tea," as we call it, is a blend of those spices in a milky tea.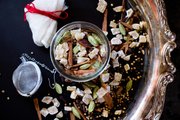 While you can, of course, order up a chai tea at almost any coffee shop on Massachusetts Street, when it's too cold to go out, it's nice to be able to mix up one yourself at home.
While you generally want to use warm, sweet spices, by making your own blend, you can customize your chai tea exactly as you like or according to what you have on hand. For example, I like mine with lots of fresh ginger and little, if any, actual tea.
On the other hand, if you stick to dry ingredients — as listed in the recipe below — you can actually make the drink even easier by pre-mixing it. While all spices do start to lose potency after about six months, stored in an airtight container, this tea will most certainly get you through this winter, and probably the next.
If you can stand to part with it, it also makes a great gift to take to a friend. Because everyone has varying tolerance to caffeine, again, I usually leave the actual tea for the receiver to add as they please.
This recipe will make two 4-ounce jars. Package them up prettily with a tea-strainer ball or a bit of cheesecloth for steeping, and you'll be the hero of any snowstorm.
Homemade Dry Chai Tea Mix
36 cardamom pods
3 teaspoons coriander seeds
3 cinnamon sticks
4 star anise pods
1/3 cup candied ginger
2 teaspoons cloves
2 teaspoons whole peppercorns
2 teaspoons fresh, grated nutmeg
Chop the cinnamon sticks and candied ginger into small pieces. Break the star anise apart, as well. Then, in a medium-sized bowl, mix those spices together with all the others. Package the blend in an airtight container with the following instructions for making the tea:
Measure 1 cup of milk into a saucepan. Using cheesecloth or a tea strainer ball, add 1 tablespoon of the chai spices to the pot. Bring the milk to a gentle boil, stirring frequently, then let it simmer for about 5 more minutes. (If you want to add tea, measure in about 1 tablespoon just as the milk boils.) Take the pan off the heat and remove the spices.
Give the tea a taste. If you'd like it a little sweeter, feel free to add a dollop of honey or a splash of vanilla. Then, whisk the milk to make it froth and grate a few more sprinkles of nutmeg on top.
— Meryl Carver-Allmond lives in Lawrence and writes about chickens, babies, knitting, gardening, food, photography, and whatever else tickles her fancy on any given day at www.mybitofearth.net.