Thursday, February 6, 2014
With Valentine's Day just around the corner, it's time to talk date night. Putting a little effort into your dress can mean a lot to your date, whether you're on a first date or trying to kindle a bit of romance in a long-term relationship.
Deciding what to wear will largely be determined by your destination. Here are a couple date night suggestions accompanied by their fashionable, appropriate attire.
Drinks and movie
If you're looking for a relaxing evening out with your significant other, hit up Free State Brewing Company, 636 Massachusetts St., for some top-rated brews followed by a movie next door at Liberty Hall. You should be able to cobble together a winning look for this evening with things already in your closet.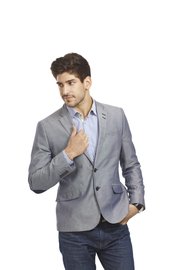 Start with a nice pair of darker jeans, an oxford button-down in a subtle color — blue being the most classic, and a light-brown, wing-tip shoe. Throw on a tailored blazer or suit jacket, whichever you might own, over the top, along with a wool tie. Then, take it to the next level by pulling everything together with a tie bar and complementary (not matching) patterned or colored pocket square.
Formal dinner
Occasionally, like on Valentine's Day, you need to step it up to truly impress. No worries, though. Downtown Lawrence has plenty to offer when it comes to pulling out all the stops. An evening at 715, a European-style restaurant know for its top-notch dishes and uniquely inspired cocktails (I personally recommend the horse feathers and barrel-aged Manhattan), will do the trick.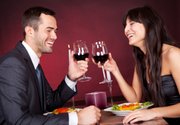 There's no need to rent a tux for a classier evening out, but you will want to leave your Levi's in the closet. A night to remember calls for a suit. If it has been awhile since you last bought a suit and yours resembles something from "The Sopranos," you might consider an update.
The latest trend in suit wear has been slimmer and tighter, but to ensure you buy something that will last, avoid anything that leaves you feeling… let's say exposed. At the same time, you don't want to be swimming in your suit. To avoid either of these unfortunate happenings, try to purchase your jacket and pants as separates to ensure a better all-around fit. Then take them to a local tailor for a bespoke finish.
If you are in the market for your first suit, look for a dark-charcoal wool suit at Weaver's Department Store, 901 Massachusetts St. This will be versatile enough for date nights, job interviews, weddings and even funerals. But if you're feeling a bit more adventurous with your style, I recommend a light-gray or even light-khaki suit.
Once you've settled on a suit, stick with a plain white button-down for a refined aesthetic. For the finishing touches grab a striped wool or silk tie, tie bar, and instead of the wing tips you might expect, opt for loafers to spice everything up.
— Nicholas Cunigan is a Ph.D. candidate in early American history at Kansas University. He blends classic fashion with modern details on a low-cost budget.