Thursday, February 6, 2014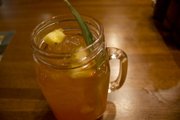 "Get your 'Shine on" with Famous Dave's new selection of Moonshine beverages. Known as the "black market liquor" from the Prohibition Era, produced in still houses in the remote Southern hills, corn whiskey was transported over back-country roads at night by the light of the moon. Earning its official name as moonshine, it's also been called white lightning, hooch, Mountain Dew, tiger's sweat, hillbilly pop, catdaddy and donkey punch, to name a few.
Not nearly as scandalous (or illegal), you can find moonshine in fruity beverages like Shiner's Punch, which mixes Firefly Cherry Moonshine, Jim Beam bourbon, pineapple juice and maple brown sugar molasses. It's served in a mason jar with chunks of pineapple and a large pineapple leaf to mix the high-proof distilled spirits. It's a little odd of a time of year to start shining, as this drink is usually reserved for warm summer days spent on a porch. But with wishful thinking (and a couple of these drinks) maybe summer will come early this year.
The hard stuff: Firefly Cherry Moonshine, Jim Beam bourbon
Where it's served: Famous Dave's, 4931 W. Sixth St.
What it costs: $6.99 plus tax
Other libations at this location: Other moonshine varieties include fire-n-ice tea, Stillhouse sangria and in-famous margarita. Along with a few bottled and draft beer options, Famous Dave's also offers Devil's Spit Bloody Mary (their spiciest barbecue sauce is called Devil's Spit), Smokin' Tea, Sweet Mama's Punch and Memphis Mai Tai.
— Drink up. Stay classy. Don't forget to tip your bartender. And let us know if you want to suggest a libation for this feature — email nimafidon@ljworld.com or Tweet her at Twitter.com/nadia_imafidon. Cheers. PrintFavorite