Thursday, February 6, 2014
Whether it's due to the polar vortex or my sweet tooth working overtime, I've certainly had chocolate on my mind a lot lately. You too? Sometimes I'll try to curb the craving with a single Oreo, or a handful of M&M;'S, but alas, these poor attempts are hardly a cure for what I like to call "chocolate brain." So what to do? This is what: call in the experts. Get up, get out and get to Billy Vanilly.
Named after one of its most popular cupcakes, Billy Vanilly has been in downtown Lawrence for a couple of years now. This is the second location for the regionally owned cupcake shop; the original location opened in 2007 in Topeka.
As stated on its website, Billy Vanilly cupcakes are made from scratch and baked fresh daily. As they say, "this ain't no fake cake!" And if you've tasted the delectable cakes, you know there's certainly no question about their freshness.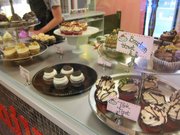 I'm not sure what their secret seductive ingredient is, but I wish it would find its way into my home-mixed cake batter on occasion (I could use all the help I can get).
I stopped in to Billy Vanilly with my sweet tooth in mind. With 13 everyday flavors, two daily flavors and three seasonal flavors (whoa), there are a LOT of options to choose from. Red velvet, carrot cake, lemon and chocolate — it's all on the menu.
Beyond flavors, the business also has various sizes of cupcakes: preemies ($1.50), baby cakes ($3) and big kid cakes ($4). There are also gluten-free options. And yet, I still had no problem making a selection — a "peanut butter cup" cupcake? There's really no competition there — but I think I'll have to come back in the near future. I am anticipating a bad case of "red velvet brain" coming up in the next few weeks, which will obviously require a return visit to the experts.
Billy Vanilly is a great solution to life's many problems. Finished with a dinner date downtown and need a little sugar pick-me-up? Billy Vanilly. Last-minute gift for a co-worker's birthday/baby shower/retirement/fill-in-the-blank? Billy Vanilly. Chocolate brain? Billy Vanilly. The best thing about these perfect cupcakes is this: you know they won't go to waste! We all need a little extra sweetness in life anyway, so go ahead and indulge.
— Jessica Pauly, aka Mrs. Mass., gives her thoughts on shopping, urban living and what's new in Lawrence in CheckOut weekly and on her blog, mrsmass.com.