Thursday, February 6, 2014
If you go
The cabaret-style two-woman production "Vicki Lawrence and Mama: A Two-Woman" will be at 8:30 p.m. Feb. 14 at The Oread, 1200 Oread Ave. There are various ticket packages available:
• Platinum tickets are $250 and include a preshow meet and greet with Vicki Lawrence, complimentary dinner, specialty wine, VIP seating, and the show
• Gold tickets are $170 and include complimentary dinner, specialty wine, main ballroom seating, and the show.
• Silver tickets are $130 and include complimentary dinner, specialty wine, seating overlooking the main ballroom, and the show.
• General Admission tickets are $75 and include only the show.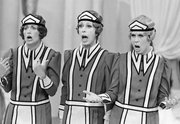 Vicki Lawrence never saw herself in show business.
"I honestly thought I wanted to study dental hygiene, learn to clean teeth, marry a rich dentist and hang it up," Lawrence says. "That's really what I thought I was going to do."
The Emmy Award-winning actress, comedian and singer was plucked out of senior year in high school to play comedian Carol Burnett's daughter in her legendary self-named variety TV show. Her career continued to soar with spin-off series "Mama's Family," a gold record for hit single "The Night the Lights Went Out in Georgia," her own talk show, and a number of other roles in several other shows. She didn't see stardom coming.
"And it's funny because I grew up in such close proximity to Hollywood that it never ever occurred to me to pursue it as a career," she says. "I sort of feel like showbiz found me; I didn't really find it."
Now she's traveling across the country for her cabaret-style two-woman production; both parts played by herself, of course. "Vicki Lawrence and Mama: A Two-Woman" will be at 8:30 p.m. Feb. 14 at The Oread, 1200 Oread Ave.
Lawrence, in the role of Thelma "Mama" Harper in "Mama's Family" from 1983 to 1990 starting at the ripe old age of 24, won the hearts of Americans, but not because Mama is a charming character. Mama is the gruff, opinionated family member we don't welcome with open arms at reunions, but merely tolerate.
"I always think of Mama like Archie Bunker," Lawrence says. "We all know that person, and we all have one in our lives. And nobody fesses up to being that person so nobody takes it personally. But everybody knows her. She is sitting at everybody's Thanksgiving table."
Her close friends and "Carol Burnett Show" alumni Harvey Korman and Tim Conway had been touring as a comedy act for years, and they encouraged Lawrence to do the same. She starting writing the production on the heels of 9/11, knowing that she needed to bring Mama to the modern age to make people laugh for 90 minutes out of their day.
"I want to take them away from everything that's happening in the world," Lawrence says. "And I find that the world has gotten so damn crazy that people want to laugh more than ever."
Vicki is the opener for Mama, sharing all of the behind the scenes cuts of "Carol Burnett Show" and giving an autobiographical look at her serendipitous life. Her early decision to go into television was a gamble. She was on a summer tour with the Young Americans singing group when she had told the director she wanted to audition.
"He said, 'Really, what are the odds of this going anywhere, and if you drop out of the tour, I'm not going to put you back in when it doesn't pan out,'" Lawrence says. "So at the time it was a really difficult decision."
While she will be addressing the recent triumphs of getting older, singing the hit song written by her ex-husband ("the only good thing to come out of that marriage," she says) and answering any questions the crowd has for her, the first half is far from serious material. Come prepared to laugh, she says. Here's one Vicki story to look forward to:
"The first time I heard them say 'WikiLeaks' on the news, I thought they said 'VickiLeaks,' and I said, 'Oh my God, how do they know?"
Then she throws on her notorious Mama garb (apparently it's as if she and her late grandmother were separated at birth), and prattles on about things that bother her like automatic toilets flushing three times before you can get your pants up, and current news like Miley Cyrus going nuts.
"I got on the phone with my writing partner and said we need to put Miley in the show now," Lawrence says.
Lawrence had a recurring role playing Cyrus' grandmother in the show "Hannah Montana."
Lawrence keeps the second half fresh, keeping up with the news and the pulse of what the audience has been thinking about. And, of course, some staple Mama moments.
"You know like, what is the deal with women putting on makeup while they're driving their cars? I was on the freeway the other day and there was a gal next to me going 70 and putting on her mascara. She was weaving in and out of my lane, she scared me so bad I dropped my cellphone into my coffee."