In the middle of the Q&A; session with actress, activist (and goddess) Laverne Cox that followed an impeccable lecture to a full house of students, faculty and community members at Murphy Hall on Thursday night, she stopped for a moment to say all of her answers are so long because everything she is speaking on is so complex.
I'd say so.
From what I knew would be a conversation about the LGBT community and more specifically the transgendered, and even more specifically the life of an out and proud black, trans-woman, the crowd received so much more.
"Ain't I a woman," Cox repeated throughout the talk.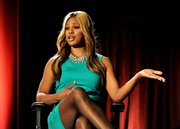 Cox was alluding to a speech given by abolitionist who was born into slavery Sojourner Truth at the Women's Convention in Akron, Ohio, in 1851, speaking on the inequalities women and blacks faced at the time. Just because Truth was black didn't mean she wasn't a woman (or a human being for that matter), once a common belief.
For Cox's "Ain't I a woman" delivery, she delved into stories of bullying and oppression she faced growing up being told she was a boy from birth, but having interests and feelings unaligned with her gender. She wanted to dance; her mother allowed her to take lessons with the stipulation that ballet wouldn't happen. It was simply "too gay."
In third grade, Cox shared, she sat in class fanning herself like Scarlett O' Hara in "Gone with the Wind," a scene she'd admired as a young child and felt glamorous recreating among her peers. Her mother was called and told to take her son to therapy before she "ended up in New Orleans wearing a dress."
Throughout high school and college, Cox began to wear makeup and embrace an androgynous phase, finding women's clothing (not dresses) at Salvation Army and finally wearing clothes she felt comfortable in. Later she'd find her "possibility model" (she doesn't believe in the phrase "role model" because she doesn't think anyone should be anyone but themselves) in a New York club. She'd see for the first time another proud transgendered woman physically transition into a sophisticated woman.That would inspire her to get her first hormone injection to begin the physical transformation of what she had always known.
"And ain't I woman," Cox repeats.
Acceptance from society, or at least the luxury of blending in, didn't happen after a couple of years of the transitioning process like she had hoped and expected. On countless occasions she was "spooked" or not-so-quietly outed as a man when passing by strangers on the street.
"I have come to understand that when a trans-woman is called a man, that is an act of violence," she says.
But that isn't the only kind of abuse these men and women face, she continues. So often transgendered individuals are targets of physical violence. The homicide rate in the LGBT community is highest among trans-women.
Cox shared a story of a trans-woman who had been catcalled while walking down the street, but when the group of men realized she was transgenderl, she was beaten into a coma, and died five days later.
"That murdered went unsolved," Cox said, "and so many of these are."
The reality is that society has made some progress in that we've just now started to have conversations about these oppressed groups of people, but we have so much further to go in many realms. The unemployment rate of transgendered is twice the national average.
"If you're a trans of color it's four times the national average," Cox said.
After 16 years in the acting field, Cox is now living up her time in the spotlight, only six months old after the breakout series "Orange is the New Black" appeared on Netflix last year. She is touring to speak on these important issues, sharing her own painful story and her inspirational journey to self-love after letting go of the shame born into her as a kid who had "unacceptable" feminine tendencies.
"Living a life with shame kills," Cox said.
If anyone was solely on the campus of Kansas University to see prison hairstylist Sophia Burset from "OITNB," I've got to say I'm happy that got them in this auditorium.
The lecture became a haven for feminists while Cox quoted Judith Butler and other literature she read in college that helped her realize her womanhood has nothing to do with the the male stamp she received at birth. It became a much-needed lesson for those unfamiliar with the daily prejudices and violence the LGBT community face daily. It became another source of empowerment for myself (and I hope the friends surrounding me).
Love who are. Love everyone's honest self. Just love.
"I truly believe love saves people," Cox said.