Songwriter Will Oldham, the bearded bard of our times, once sang: "It's Valentine's Day/And I'm catatonic." But you don't have to be. Whether you're madly in love, happily single, or somewhere else on the spectrum entirely, a visit to Kansas City could be just what you need to snap out of the winter doldrums and avoid the Valentine's Day blues.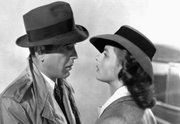 Let's start with one of my favorite Valentine's traditions in Kansas City: the showing of classic films at the Screenland Theater, 408 N. Armour Road in North Kansas City. Screenland Armour will be showing "Casablanca" at 8:30 p.m. Thursday and "The Princess Bride" at 9 p.m. Friday and Saturday. For tickets, call (816) 994-7380.
During my rotation shifts at 90.7 KJHK about a decade ago, we got more requests to play the Pixies' "Surfer Rosa" than any other album. Since that time, the Pixies have started touring again, and they'll stop by the Arvest Bank Theatre at the Midland at 7 p.m. Tuesday. Opener "Cults" will add some value to this show. Tickets start at $38 and are available at midlandkc.com.
Earlier that day, The Folly Kids Series will be presenting a musical drama about the life of Harriet Tubman geared toward audiences from grades 3 through 12. Tickets are $6 a person for the play, which shows at 10 a.m. and again at 11:30 at the Folly Theater. For tickets and more information, visit follytheater.org.
On Wednesday, come see members of the Kansas City Symphony perform a free Happy Hour Concert including an early work by Schoenberg and a Prokofiev quintet. Bars at the Kauffman Center open at 5 p.m., and the hour-long concert begins at 6. RSVP for your free ticket at kcsymphony.org, where you can check out a full listing of other upcoming performances.
The Harriman-Jewell series offers two more outstanding classical concerts this week, including the Brazilian "Bahia Orchestral Project" with pianist Jean-Yves Thibaudet at the Kauffman Center at 7 p.m. Tuesday. On Saturday at the Folly, violinist Nicola Benedetti will perform several pieces on violin and piano starting at 8 p.m. Tickets start at $20 and $25, respectively, and can be purchased at hjseries.org.
Jeff Dunham, called "the most successful comedian working in America" by The New York Times, will be bringing his "Disorderly Conduct" tour to the Sprint Center at 7:30 p.m. Tuesday. Tickets cost $45.50 and are for sale at sprintcenter.com.
When it comes to choral music, the Grammy-winning Kansas City Chorale tends to take center stage. But the Fine Arts Chorale, directed by Terry Teal since 1992, has also established a strong reputation for high-quality choral entertainment.
This year, the Fine Arts Chorale's annual Valentine's concert will include an evening of Beatles songs in commemoration of the 50th anniversary of the Fab Four's first American tour. The $49 ticket includes a buffet dinner, chocolates and a champagne toast at Californos in Westport. Buy tickets online at fineartschoralekc.org or by calling 816-235-6222.
One of the week's most interesting events has nothing to do with romance and everything to do with murderers, mob bosses, anarchists and thieves. On Feb. 16 at the Central Library (on 14 W. 10th St. downtown), Jake Ersland of the National Archives will be giving a talk about the stories contained in the Archives' "Record Group 129," the inmate case files for the Leavenworth Penitentiary. The "Locked Up in Leavenworth" program starts at 2 p.m. and is free to the public.
— Lucas Wetzel is a writer and editor from Kansas City, Mo. Know of an upcoming event in Kansas City you'd like to see featured in Kansas City Connection? Email us about it at kcconnection@ljworld.com.