Wednesday, February 12, 2014
Delicious
My family is not big on dessert. But even savory-lovers like us need a little sweetness in life on Valentine's Day.
We tend to do chocolate when we do sweet ­­— my Valentine, Mr. Meat and Potatoes, loves truffles and brownies and chocolate chip cookies. In fact, those are really the only three desserts we ever make — save a cake — for birthdays. So for Valentine's Day this year, I decided to change it up. Even though my husband doesn't think he likes anything but the basics, I know that I love bread pudding, so I wanted to give it a go.
Sarah and I had settled on white chocolate, which I thought would make a lovely bread pudding, and I was totally right. This is a rich dessert, not for the feint of heart. But isn't that what Valentine's Day is all about? Over-the-top decadence is the order of the day.
It's nice because it's easy to whip up and doesn't require any frou-frou steps like many confections do.
White Chocolate Macadamia Nut Bread Pudding with Raspberry Ganache Sauce
1 loaf French bread or brioche
4 cups half-and-half
1/2 cup sugar
8 egg yolks
1 egg
12 oz white chocolate chips
4 oz macadamia nut pieces
Preheat the oven to 250 degrees.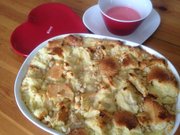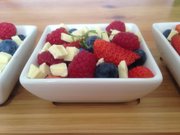 Tear the bread into pieces and arrange it in a 9-by-11 casserole. Bake until it's dry, about 10 minutes.
Meanwhile, warm the half-and-half over medium heat and dissolve the sugar in it. When the sugar is dissolved, add the white chocolate chips and stir until they are melted.
In a large bowl, whisk together the egg yolks and the egg. Slowly add the chocolate mixture to the eggs. Sprinkle the nuts over the top.
Raise the oven temp to 350 degrees.
Pour over the bread and poke the bread down in to be sure all pieces are soaking up the liquid. Let it rest for a few minutes, then cover with aluminum and bake for 40 minutes. Remove the foil and bake another 15 minutes until the top is golden brown and there no longer appears to be liquid around the bread.
For the sauce
Heat 1/2 cup of milk in a saucepan with 1/4 teaspoon raspberry extract and then pour it over the chocolate chips and stir until they're melted. Serve over warm bread pudding.
Happiest Valentine's Day to everyone — enjoy it for the bread pudding, if nothing else.
Nutritious
Admittedly, I'm not a white chocolate person. I just happen to love dark chocolate so much that I'm pretty much blinded to any other type.
So, while I like white chocolate, I just don't actively seek it out. I mean, it's delicious, but it's never front and center for me. I like it best as a culinary accessory, jazzing up the food around it.
Case in point: Those great chocolate-dipped strawberries that are ubiquitous this time of year. The ones that have a bit of white chocolate drizzled on top? Delicious — the perfect, sweet accessory to the tart brightness of the strawberry.
Playing off that idea, my recipe this month is "deconstructed" white-chocolate covered fruit. Less mess, easier to make, pretty and tastes just about the same as those expensive decorated strawberries you pick up for $2 a pop.
While white chocolate doesn't have the antioxidant punch of its darker cousin, the fruit in this dish is full of vitamin C and antioxidants. Meaning this special Valentine's Day dessert is a healthy object of affection.
Deconstructed White Chocolate-Covered Fruit
6 ounce container blueberries
6 ounce container raspberries
8 large strawberries, each sliced into eighths
1 4-ounce bar of white chocolate, chopped
1 lime, zested
Combine fruit in a medium bowl. Dish fruit mixture into six individual cups. Top with chopped white chocolate and lime zest.