Thursday, February 13, 2014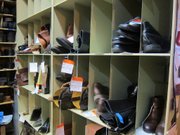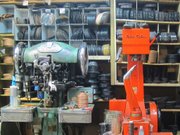 As easy as it is to find a great pair of shoes, it can be a pain in the butt (or should I say sole?) to repair them.
What to do with a worn-down heel? Broken zipper on your favorite winter boots? Or soles that have become crepe thin? If your shoes are in need of some serious lovin', fear not! Bruce Barlow's BKB Leather business in North Lawrence is prepared to repair and renew.
What's more, his specialty extends beyond shoes to custom leatherwork (belts, chaps, purses, etc.), upholstery (furniture, auto, etc.) and saddles. In fact, Bruce is usually up for a good challenge — "we just do what walks through the door."
Bruce is a self-taught leather specialist, and he's been at it for almost 30 years now. He started out as a saddler, but as other shoe repair shops across town began shutting down, Bruce began expanding his business. The past few decades have given him some great experience, and he keeps up with the changing industry through his Shoe Service Institute of America (SSIA) membership.
If you visit his shop, you'll certainly get the feeling that he knows exactly what he's doing. The shop itself is worn in, like a good shoe.
There are beautiful old buffing and sewing machines occupying the eastern wall of the workshop; tidy but discolored work benches that are scratched and weathered look to be right at home; and cubbies full of shoe soles, heels and shiny, repaired shoes line the space. This rich workshop has a character and charm all its own.
I've been to BKB Leather a couple of times now — once to repair a boot zipper, and recently for new heels and extra holes for a belt. This work certainly extends the life of your belongings, and it's greener (and often cheaper) than buying new. As Bruce will tell you, you ought to take care of your leather goods before it's too late! And he's right; it's a heck of a lot easier to spend a little cash to reinforce your leather products now than to wait until they break down entirely (which will cost more and risk total repairability).
BKB Leather is the only SSIA shoe repair shop in Lawrence, but as Bruce says, it's the only one you need! His experience and expertise speak for themselves.
— Jessica Pauly, aka Mrs. Mass., gives her thoughts on shopping, urban living and what's new in Lawrence in CheckOut weekly and on her blog, mrsmass.com.