Thursday, February 13, 2014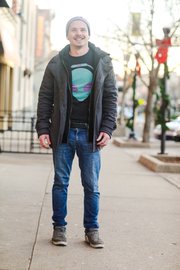 Age: 20
Hometown: Emporia
Time in Lawrence: A year and a half
Occupation: Delivery driver at Wheat State.
What were you doing when scouted? Just browsing through stores on Mass. St. with (fellow Style Scout) Jillian
Describe your style: I like to wear what I think looks good on me. Sometimes I just mix it up and try things that I think might look cool.
Fashion trends you love: I like skinny jeans and more modern dress clothes.
Fashion trends you hate: Polos and salmon shorts.
Fashion influences: Mostly from music artists or people that I hang out with. I skate so that has an influence too.
What would you like to see more or less of in Lawrence? There's too much cookie-cutter (fashion styles). Everybody almost dresses the same so it would be good to see more people dressing broadly.
Tattoos or piercings: I got my ears gauged and a tattoo of Salvador Dali's elephant.
Whom do people say you look like? Nobody comes to mind
What type of music do you like? I listen to EDM (electronic dance music), folk, rock, some rap and post hard-core metal.
Tell us a secret: Nothing comes to mind.