Thursday, February 13, 2014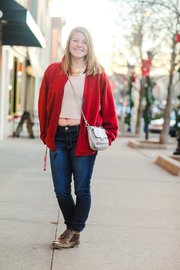 Age: 19
Relationship status: Single
Hometown: St. Joseph, Mo.
Time in Lawrence: About five months
Occupation: I'm a student. I'm studying photography.
Dream job: Fine art photographer
What were you doing when scouted? Just browsing around (downtown)
Describe your style: Comfortable, sassy and cute
Fashion trends you love: Crop tops and high-waisted anything, bottom-wise
Fashion trends you hate: Nothing really for me! I'm wearing Sperrys so I can't really say anything.
Fashion influences: People I surround myself with and kind of what I see online a lot where I'd browse through blogs and stuff.
What would you like to see more or less of in Lawrence? Fashion-wise, probably more diverse and edgy stuff. A lot of girls run around looking the same.
Tattoos or piercings: I have a septum piercing and my ears are double pierced.
Whom do people say you look like? One time I got Katherine Heigl
What type of music do you unwind to? EDM (electronic dance music) and alternative rock
Tell us a secret: One of my biggest secrets is that I am always trying to get other people's secrets!