Sunday, February 16, 2014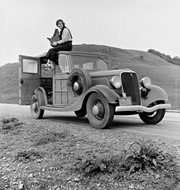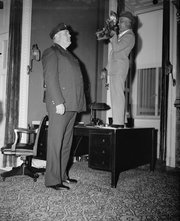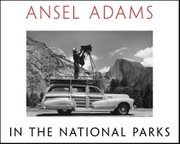 After a long and happy relationship, I recently had to give up my 1996 Toyota RAV. It was a super vehicle and a surprisingly great creative device for my photography. Often, I would climb on the roof to gain a high vantage point for a subject or scene. I just had to make sure I didn't step through the sunroof.

In one of my crazier road trip moments, I hauled along a 6-foot ladder. There was a particular Kansas monument I wanted to photograph and I knew it was over 10 feet off the ground. I placed the ladder on top of my car, carefully climbed up and got a monumental prairie vista.
This isn't uncommon behavior for photographers. Post-war British photographer John Gay is shown in a 1950s photograph using this same ladder-on-car technique. Landscape photographer Ansel Adams and Depression-era photojournalist Dorothea Lange are both captured in images perched atop their respective vehicles sporting cameras. In Adams' case, he's shown in a photograph from the '40s, standing with his large tripod atop a Ford Woodie station wagon with a permanent mounted platform.
I'm not going to tell you that ladders and tall vehicles will make you a better photographer, but I will tell you that seeking higher vantage points can provide some new perspective.
There are three main reasons I seek a higher view. It can provide an angle and composition that eliminates distracting elements in the background. At a higher angle, you are more likely to be pointing your camera downward rather than straight out at a busy horizon line.
Secondly, I've found that photographs of people looking up and into a camera are more pleasing than portraits taken from a lower perspective.
Lastly, I like the higher position because it provides a perspective that people don't normally experience. It can make the photograph a little more distinctive and unique.
Very seldom does a week goes by where I don't ask someone if I can use their chair or table to climb on for a photograph. I've used fire hydrants, fence posts and even mailboxes — each very carefully.
Fellow Journal-World photographer Richard Gwin once used a 55-gallon oil drum.
"It was empty so it was a little wobbly," he said.
At the end of the recent Kansas University basketball loss to Kansas State in Manhattan, Journal-World photographer Nick Krug leapt up on sideline chairs to get a better view and avoid the rush of fans.
We're all a little height-challenged on the Journal-World photo staff, so if we come to your home or place of work for a photograph, you can offer us a chair — but we won't be sitting on it.