Thursday, February 20, 2014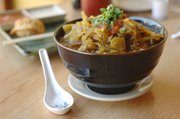 In the Himalayan mountains, where most homes don't have central heat, residents eat a lot of thukpa to take off winter's chill, said Zen Zero owner and Nepal native Subarna Bhattachan. This belly- and soul-warming Nepalese/Tibetan soup features oodles of egg noodles, stewed cabbage and green beans in a curry broth with a touch of heat. Tomato chutney, cilantro and scallions on top add a jolt of freshness.
"It's got broth, it's got spice, you can add dumplings or meat," Bhattachan said. "In the winter when the sun goes down, and it's really bitter cold ... that's the perfect kind of weather for it."
There's still time to fill up on thukpa before spring. Don't kid yourself — we may on a brief winter break this week, but the real February will be back shortly.
Where to get it: Zen Zero, 811 Massachusetts St.
What you'll pay: $7.29. Add chicken or dumplings for $1.99.
Try it with: To keep the regional theme going, an appetizer of momos, or Himalayan style dumplings. Choose from pork or vegetarian, steamed or fried. (Go ahead, order them in the soup, too. It's hard to get too many of these things.)
Also on the menu: Mostly Thai soups, salads, curries and noodle dishes, with a smattering of choices inspired from Nepalese, Tibetan, Japanese, Vietnamese and Chinese cuisine. Zen Zero is known for its selection of vegetarian dishes.
— Off The Beaten Plate highlights some of the more exotic, oddly named or inventively concocted dishes from local menus. Know of an offbeat item we should check out? Email reporter Sara Shepherd at sshepherd@ljworld.com. Follow her at Twitter.com/saramarieshep.