Thursday, February 20, 2014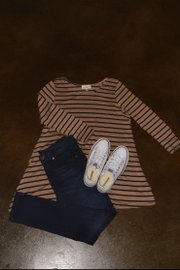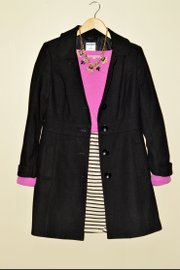 Wearing stripes is so classic that you don't have to ever worry about it going out of style.
Each season, especially in the spring and summer, you will find stripes reinvented. I know it can be difficult to visualize a fresh striped look in this weather, but there are many ways that you can start incorporating the classic spring style into your wardrobe now. Considering stripes are timeless, you probably already have something striped hanging in your closet. It's just a matter of knowing what to pair them with.
Elizabeth recently took advantage of a sale at Anthropologie and picked up a brown- and black-striped tunic shirt. This shirt is the ultimate casual piece, so we instantly thought to pair them with our casual converse kicks. Skinny jeans keep the look functional.
This would be a great option for running errands, and if the weather calls for it (which it probably will for the next several weeks), throw on your wool coat to keep warm.
Another option is to go for a striped bottom. If you're worried about horizontal stripes making you look wider, you should either look for a vertical-striped skirt or make sure to wear shoes with some sort of heel to elongate your legs.
We styled our striped skirt with a colorful sweater, a wool coat and dressed it up with a statement necklace.
The easiest way to sport stripes right now is to go for a statement piece like a striped dress. The Gap has several striped dress styles. This particular dress I found at the Plaza location in Kansas City (on sale)! The best thing about sporting one piece is the power to dress it up or down. You could wear tights, no tights, leggings, no leggings, flats, boots or heels with this. The styling options are endless!
— Emily and Elizabeth Kennedy are twin sisters and fashion bloggers who share a blog called Fashion Column Twins. Emily writes this column. They can be reached at fashioncolumnblog@gmail.com.