Thursday, February 20, 2014
Photo Gallery
Mise en place: A place for everything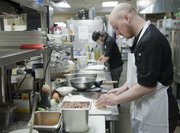 At-home cook Elif Andac-Jones employs the philosophy of mise en place, French for "put in place," to organize cooking meals for dinner parties.
If you are frequenting fast food joints because that's all you have time for, it's time to be introduced to a chef's secret weapon and your new cooking mantra. Mise en place, a French term meaning "put in place," is a practice of food preparation that restaurants rely on to increase cooking efficiency.
It's the mantra for cooks at Pachamama's, 800 New Hampshire St., as some of their elegant dishes need 36 to 48 hours of early preparation. While dinner isn't until 5, they are slicing, marinating, chopping and making sure everything is in place from 8 a.m. until 3 p.m., so they are ready for anything during the evening surge of diners, and to avoid any disasters later.
"Mise en place will make or break an evening," says owner and chef Ken Baker.
It's a philosophy of having bowls, ingredients, appliances and any necessary item in prepared and in place so dinner runs smoothly. But mise in place isn't exclusive to big, fancy restaurants — you can practice it in your own kitchen.
How to 'mise en place' at home
Bringing mise en place into the home may seem a little strange, especially if you aren't normally serving a large group of people, but it's beneficial regardless.
Kristina Van Anne spends a good chunk of her Sunday prepping for a week's worth of meals for just her and her boyfriend. Her cooking experience began in the Lawrence Country Club kitchen when she was 15 years old, later moving on to work at Evan Williams Catering, Ingredient and now in the bakery at the Kansas Union.
"When I worked for Evan Williams Catering, I would just be slicing onions and chopping carrots for hours on end," Van Anne says. "Or cutting 20 baguettes in a row to make crostinis and stuff like that."
As a full-time student with commitments to the bakery, lab research, the McNair scholars program, and various other things, Van Anne has no time to spare. While she will admit the extreme nature of her mise en place, her expert tips can benefit any home:
Smart shopping
Beyond finding cheap groceries (Checkers is Van Anne's favorite store), plan the meals you want ahead of time by scouring Pinterest for recipes. "I think it's important to think about how to use your leftovers," she says. "Like last week, I roasted a batch of chicken with potatoes and was able to make chicken salad, slice up part of it to make lunch meat, and chop up the rest for tandoori chicken," she says.
Food prepping
Wash the vegetables you buy in batches. Chop up any vegetables you might use during the week for salads or wraps that can thrown together quickly. "If you're going to chop up part of an onion one night, you might as well chop the entire thing for the next night."
The power of freezing
Another benefit of mise en place is extending the shelf life of goods. At the bakery, Van Anne says, they freeze surplus breads and cakes, and when thawed, they are just as fresh and delicious. Freezing is also good for over-cookers. Accidentally make too many meatballs for pasta? Freeze them raw and pop them in the oven for future meals.
Quick meals
Van Anne's fridge is stocked with pre-cooked hard-boiled eggs, muffin pan omelettes and breakfast sandwiches that can be heated up for on-the-go meals.
Spice stash
It helps to have a small arsenal of spices and herbs for your go-to meals so you never have to run to the store mid-cook. Van Anne goes grocery shopping once a week to keep her shelves stocked.
Buy in bulk
Twice a year Van Anne goes to Costco to get giant tenderloins of beef (which she butchers herself) so she always has steak in her freezer. On the nights when there is "nothing to eat" she makes filet mignon.
Multitasking
If you want to make several dishes for one night, mise en place helps to set up a prioritization game plan, says at-home cook Elif Andac-Jones.
Make filled pastry leaves
Ingredients:
• 1.5 cups crumbled feta,
• 1 bunch Italian parsley, chopped
• 1 tablespoon paprika
• 1/2 tablespoon black pepper (or to taste)
• 1 egg
• 1 pound triangle pastry leaves (available at Mediterranean Market)
Mix the feta, parsley, paprika, black pepper and egg in a large bowl.
Scoop one spoonful of filling onto a triangle pastry leaf.
Fold two ends of the wide side of the leaf over and roll dough from back to front until the very top corner (should look like small spring roll).
Dip end in bowl of water to close and place on a tray.
Take prepared rolls and deep fry a few at a time in a pan using olive oil until golden brown.
Makes about 25.
— Recipe courtesy of Elif Andac-Jones
Her kitchen shelves are stocked with vacuum-seal jars containing various key ingredients, and her countertop showcases appliances and individual bowls of the necessary food items for at least five dishes. Andac-Jones says that with two- to three-hours' notice, she can put together a dinner party for 20. Mise en place isn't something she learned; it's just how she grew up cooking.
"I grew up in Istanbul, and cooking and eating is a huge part of the culture," she says. "Dinner could go for several hours for everyday eating."
This particular menu — orange almond chocolate flourless cake; lentil soup; beef stew and rice; Turkish phyllo dough filled with feta cheese, parsley and paprika; and a side of cucumber yogurt dip (similar to tzatziki) — isn't unlike a meal she'd make any day of the week, she says.
Three whole oranges (peels included) previously boiled for an hour an half and then quartered, get thrown into a blender with ground almonds, cocoa, baking soda, baking powder and eggs. Andac-Jones pours the product into a buttered springboard baking pan after just 10 minutes.
"The taste of almonds, chocolate and orange; you can't go wrong with it," she says.
The cake sits in the oven for 50 minutes, which gives her time to make the soup, let simmer for 30 minutes and garnish with butter and paprika; quickly mix Mountain High yogurt with previously shredded English cucumber, garlic, sea salt (a dip with bread); and fill pastry leaves with a feta mix to deep fry. Both appetizers are presented elegantly on white dishes. It's been less than an hour and a half, and four decadent dishes are plated.
Meanwhile, the traditional Turkish beef stew is already in motion, set to simmer for roughly 2 hours.
"By the time that's done, it's supposed to melt in your mouth."