Thursday, February 20, 2014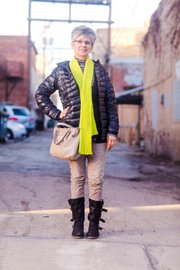 Name: Angela Candela
Age: 65
Relationship status: Married
Hometown: New York
Time in Lawrence: I moved from Berkeley 23 years ago and never looked back. I love it here.
Occupation: Pattern maker
Dream job: I'm working in the area that's part of my dream job.
Describe your style: It's casual and comfortable with a little zip and bright colors to jazz it up.
Fashion trends you love: I like the fact that anybody can do anything these days. There are no more rules.
Fashion trends you hate: I just like watching the runway on the streets and seeing what people wear. I'm not going to judge anybody.
Fashion influences: Everywhere: magazines, stores and people I see. I like to just go into the closet and say "what is it going to be" and just come up with a combination.
What would you like to see more of in Lawrence? Other retailers besides bars downtown.
Less of? Empty storefronts downtown.
Whom do people say you look like? In the old days, I used to get Juliette Binoche but that's before my hair turned gray!
What type of music do you unwind to? Singer/songwriter, folkish kind of stuff and rock and roll. I just like a lot of things.
Tell us a secret: I love to watch that reality show called "The (Property) Brothers." I'm not alone in that!