Thursday, February 20, 2014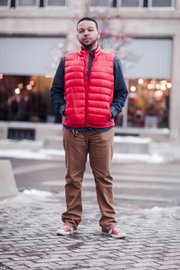 Name: Shae Murff
Age: 25
Hometown: Overland Park
Time in Lawrence: Just visiting
Occupation: I'm currently a nursing student.
Dream job: I have my real estate license so I'd like to be a real estate broker, preferably in a place like New York or something like that.
What were you doing when scouted? Going to Starbucks
Describe your style: It's based on whatever I'm feeling that day: preppy, urban, casual. I like color.
Fashion trends you love: I don't know. I can't pinpoint anything.
Fashion trends you hate: I hate skinny jeans!
Fashion influences: TV, social media and whatever style I decide to come up with that particular day.
What would you like to see more of in Lawrence? People putting some thought into what they put on instead of walking out the house in some pajamas.
Less of? Peplum tops!
Whom do people say you look like?  I really don't know.
What type of music do you unwind to? I primarily listen to R&B;, although I like it all.
Tell us a secret: I dislike nursing school.