Sunday, February 23, 2014
A friend asked me the other day what the best Chinese restaurant is in Kansas City. That's easy, I thought.
Bo Lings.
"Besides Bo Lings," he said before I could answer out loud.
That's a little trickier. My family has been ordering Bo Lings for monthly Sunday dinners since before I was old enough to read a fortune cookie. In fact, we rarely dine in or order take out from anywhere other than the venerable Kansas City establishment, which has locations in the City Market, Overland Park and Zona Rosa, and a new location in the heart of the Country Club Plaza (see bolings.com for a full list of locations).
In addition to staples such as shrimp with vegetables and General Tso's chicken, Bo Lings has recently added some new, more adventurous dishes to their menu, such as Cantonese pork belly and Hui-style lamb with spices. The outdoor patio at the City Market location, on the corner of Fifth and Walnut streets, is a great place to gorge on cheap appetizers and mai tais during their generously long happy hour (4 p.m. to 7 p.m. Tuesday through Saturday, 4 p.m. to close Sundays and Mondays).
On the other end of the spectrum from Bo Ling's more refined, slightly pricey menu is Kin Lin, a student-friendly restaurant at 51st and Main streets, near the UMKC campus. Kin Lin has a dozen or so lunch specials under $5, and the chicken curry is delicious — even if it is served with crinkle-cut fries. The service is always friendly, and the fresh spring rolls hit the spot.
Other recommendations include Dragon Inn (7500 W. 80th St. in old Overland Park); ABC Cafe, (10001 W. 87th St., Overland Park), which is open from noon to midnight every day except Tuesday; and Pine and Bamboo Garden, at 10915 Shawnee Mission Parkway in Shawnee.
There's a lot of debate about who serves the best, most authentic dim sum, and in the event that I can persuade my editors to bankroll a citywide taste test, I will certainly share my findings. In the meantime, feel free to add your own recommendation to the comments of this article below.
Kauffman Center events
For cultural offerings this week, you might as well camp out in front of the Kauffman Performing Arts Center, which will be hosting notable performances every night of the week.
This week concludes the spooky and seductive "Dracula," presented by the KC Ballet. Dracula matches Michael Pink's dance adaptation of the classic tale with a score by Philip Feeney, performed by members of the Kansas City Symphony. Tickets for the final five performances are available at kcballet.org from $29 to $99.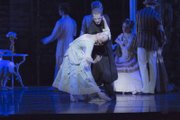 At the risk of sounding like a broken gramophone, the Kansas City Symphony's special programming really does warrant a visit, especially for those who might enjoy a less formal, slightly offbeat orchestral experience. Wednesday's "Classics Uncorked" concert features some of Mozart's final works in an hour-long concert beginning at 7 p.m. The $25 ticket includes a glass of wine or champagne following the performance.
On Thursday and Friday at 7 p.m., the Screenland at the Symphony will present a screening of "The Wizard of Oz" with the score performed by a live orchestra (Judy Garland's vocals have been digitally separated from the rest of the soundtrack, leaving the live musicians to fill in the rest).
I'm not sure it can compare to the trippy "Dark Side of the Moon"-soundtracked viewings I attended freshman year at Hashinger Hall, but it will certainly be better suited for children. Tickets cost $20 and up at kcsymphony.org.
The final Kauffman Center event worth mentioning is a special visit by the Haifa Symphony Orchestra of Israel, who will be performing for the first time ever in Kansas City at 8 p.m. Saturday. The concert's program will include Weber's Overture to Euryanthe, Rachmaninov's Concerto for Piano No. 2 in C minor, and Tchaikovsky's Symphony No. 4 in F minor. Tickets are available at hjseries.org for $20 to $65.
Next week, Kansas City Connection will return with some art updates, a visit to some of our favorite bars and a quick look at what might turn out to be the most titillating theater event of 2014.
— Lucas Wetzel is a writer and editor from Kansas City, Mo.