Thursday, February 27, 2014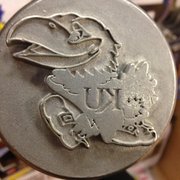 Nothing proves your commitment to all things KU basketball like searing steaks with your favorite mascot. The Kansas Jayhawk stainless steel branding iron, available at Kansas Sampler, just needs to be heated on the grill, over coals or on your stovetop, and it's ready to mark the game day dinner with your pride, bringing just a little bit more luck to the table (in addition to your lucky jersey). It's a good way to personalize your dinner and prove your loyalty without having to work the colors crimson and blue into the meal somehow. Rock chalk!
Where to get them: Kansas Sampler, 921 Massachusetts St.
What you'll pay: $32.95
About the store: Kansas Sampler (or Rally House in non-Kansas locations) is a specialty sports boutique that offers a large selection of apparel, gifts and home decor representing local NCAA, NFL, MLB, NBA, NHL and MLS teams. While purple items can be found (and promptly ignored) in this store, it's a far smaller and less compelling collection of merchandise. Kansas Sampler is your one-stop shop for anything you might need/want to prove your loyalty to the Jayhawks. This is also where you go to find a gift for your friend who already has every Kansas basketball-themed item in every color.
While you're there: Take a break from the Jayhawk merchandise and check out the regional souvenir section at the front of the store that you never seem to browse. As you might imagine, there are sunflower-inspired gifts, "Wizard of Oz" memorabilia, and a small selection of Kansas- and Lawrence-based books that capture the heart of our town and our incredible tradition-rich basketball pride.
— Off the Beaten Buy highlights some of the more unique and unusual items for sale at Lawrence businesses. Have a suggestion for this feature? Send an email to checkout@ljworld.com.