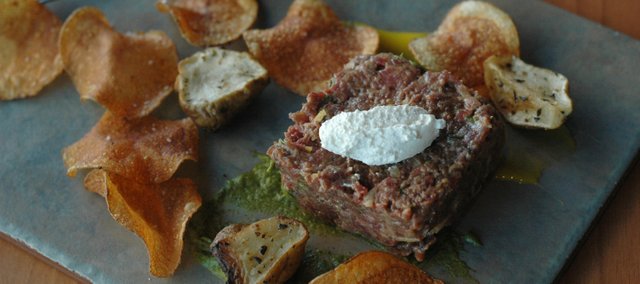 Thursday, February 27, 2014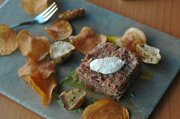 Eating raw deer meat from a stone slab feels more chic than caveman-ish with this appetizer from the winter dinner menu at Pachamama's. The Seared Tartare of Venison is not completely raw; venison loin is first lightly seared then chopped, seasoned and formed into a tender, creamy — and not at all gamey — square. The meat is served on a flat slate with a dollop of smoked whipped cream and rustic potato chips.
Where to get it: Pachamama's, 800 New Hampshire St.
What you'll pay: $11
Try it with: A friend. This is a rich dish for one if you're planning on following it with a full meal.
Also on the menu: Roasted Marrow Crostini and Warm Green Lentil Salad to name a few of the dinnertime starters. Crisped Cauliflower Steak, Roast Porchetta and Winterfest IPA Short Ribs of Beef are among this season's main dishes.
— Off The Beaten Plate highlights some of the more exotic, oddly named or inventively concocted dishes from local menus. Know of an offbeat item we should check out? Email reporter Sara Shepherd at sshepherd@ljworld.com. Follow her at Twitter.com/saramarieshep.