Thursday, February 27, 2014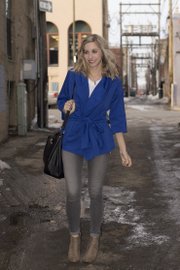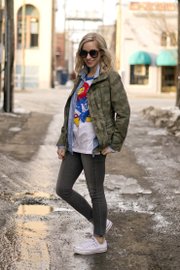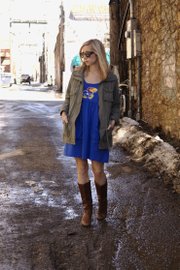 Right now is about the time you should be scouting out your March Madness gameday outfits because the madness is about to begin.
We've styled gameday attire on here before, but for basketball games, it can be a bit different since the games are inside. The weather isn't a huge contributing factor when picking your outfit.
We recently found a Lawrence online boutique called Sweet Tea & Caviar Boutique and picked out a few pieces that would be fabulous choices to wear during March Madness.
The boutique doesn't just carry gameday gear; the website is full of everything from the cutest baby clothes to stylish plus-size pieces. We love that it caters to everyone, no matter what size or shape.
Our first outfit represents the subtle sports fan, which is definitely more my style. This is the first piece I picked out from Sweet Tea & Caviar's website because it carries a bold royal blue color in the form of a hooded cardigan made of sweatshirt material. It is so comfortable, and you can wear it tied or open in the front (we love versatility!). I threw on a simple T-shirt, some skinny jeans and ankle boots to brave the crowded basketball games. This piece is perfect for the spring weather because it's not too heavy, but it's not too light either.
The second look grasps the style of the laid-back sports fan. We chose a KU T-shirt and layered it with a chambray shirt and an army jacket. The outfit is completed with skinny jeans and converse sneakers.
This is an easy way to dress up the T-shirt with some fun, sporty style. Oh, and did we mention the quality of this T-shirt? It's made of a soft, thicker fabric that reassures us it will last. No sheer material here!
The last outfit we put together was super simple, and intended for the feminine and stylish sports fan. The KU dress from Sweet Tea & Caviar is accompanied by a green utility jacket and brown boots. The dress has cute and convenient front pockets and soft, light-weight fabric so you can easily layer with a jacket if needed.
— Emily and Elizabeth Kennedy are twin sisters and fashion bloggers who share a blog called Fashion Column Twins. Emily writes this column. They can be reached at fashioncolumnblog@gmail.com.