Thursday, February 27, 2014
The art at this month's Final Fridays is nothing less than sublime, for that was the inspiration for the art on display at Phoenix Gallery Underground, 825 Massachusetts St.
Students in Kansas University's visual arts programs were invited to create a work of art based on their interpretation of the word "Sublime." The creations are in various mediums including drawings, paintings, prints, textiles and ceramics. This is Phoenix Underground's first juried art show, and the public is invite d to join the artists for a short presentation at 7 p.m. when the winners will be announced.
Works of Tom Moore
Roger Shimomura, who served as one of the judges for "Sublime," curated another show that is on display Friday at the Lawrence Arts Center, 940 New Hampshire St. Tom Moore's solo exhibition moved from the Antecedent Gallery to an upstairs space when the William Burroughs' exhibition opened.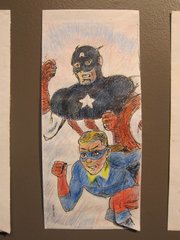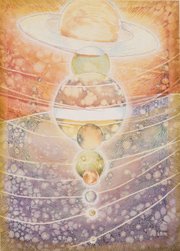 Moore and Shimomura met in the 1970s when Moore was a student in KU's art department. Shimomura was impressed with Moore's talent then and now. While Parkinson's disease forced Moore to give up painting in recent years, it did not force him to give up art, and this exhibition illustrates how his work has gone full circle, to the inspirations and subjects of his youth, mixed with the musings of a man in his later years.
"I can't remember a time when I didn't want to become an artist (or possibly a superhero, as my early inspiration was cartoons and comic books)," he writes.
Because most of the sketches have been drawn on whatever paper was at Moore's disposal, (most often envelopes) the works also include traces of his daily life: grocery lists and "to-do" reminders.

'Present Tense'
More works on paper are on display at Pachamama's, 800 New Hampshire St.
For many years, local artist Marty Olson worked with acrylics and painted on wood and canvas, using historic sites in New Mexico as a basis for his creative abstractions. His new show, "Present Tense," shows how far he has traveled since that time. Rather than using the built environment as inspiration, Olson was influenced by more spiritual themes. The artworks, all on paper, have been created with watercolor, ink, collage and colored pencils.
"I took a broader approach to investigating various belief systems and culling personal visual impressions," he says in his artist statement. "I touched bases with New Age, Pantheism/Paganism, Catholicism, Buddhism, Voodoo, Jewish Mysticism, as well as Roman Mythology."
He says the show represents his own search for a rewarding spiritual place in his artwork. "I have added the images of roots and wings as an homage to my parents, both of whom encouraged and nurtured my artistic path."
Secret Order
Finally, the Secret Order of the Black Diamond has returned to Wonder Fair, 803 1/2 Massachusetts St., this month after a long absence. Sound mysterious? Find the answers to all your questions Friday where you can become a part of the adventure and create your own membership card for the order.