Thursday, February 27, 2014
Here in the land of crimson and blue, Jayhawk memorabilia has a value all its own.
Photos of famous players or key moments in historic games and authentic memorabilia are excellent gifts (to give others, or oneself). Framewoods Gallery is both local and up-to-date when it comes to special Jayhawk photos, prints and unique mementos. Consider it a one-stop shop!
I stopped into Framewoods before the holiday season hit, knowing full well that the James Naismith's Rules of Basketball would make an ideal gift for my husband. Little did I know I'd have trouble choosing between the different options; there's the non-framed Rules of Basketball ($42), framed ($125), and even an option to have Naismith's photo flanked by the rules ($275). Framewoods has excellent gift ideas in a variety of options and price points.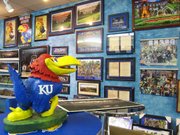 A panorama photo of the Kansas University vs. Oklahoma State game from Jan. 18 also caught my eye. This photo celebrates the energy of Jayhawk nation and spotlights the oh-so-handsome James Naismith Court. Had I attended that game I would definitely be interested in purchasing this keepsake for an entertainment room or home bar area.
During my visit I was pleasantly surprised to learn that Framewoods also carries autographed photos and basketballs, along with specialty items like the 2013 KU basketball collectable cards and the Leather Head Naismith-Style Lace Up Basketball (a replica of the first-ever lace-up basketball).
Dave Seal, the owner of Framewoods, says that his inventory changes often thanks to visits from former KU players. For example, Seal recently had a pair of Wilt Chamberlain's vintage pants on display! Items such as this are unpredictable.
If you've been searching for the perfect Jayhawk gift only to come up empty-handed, you would be remiss not to visit Framewoods. With endless options of KU artwork and photos, there is surely something for everyone.
The best part is you can even confirm the perfect matting and framing options for your gift, since that has been a staple service of Framewoods for over 30 years now. This is exactly what I decided to do for the Rules of Basketball — custom matting and framing — which made this gift a real slam dunk in my husband's book.

— Jessica Pauly, aka Mrs. Mass., gives her thoughts on shopping, urban living and what's new in Lawrence in CheckOut weekly and on her blog, mrsmass.com.