Thursday, February 27, 2014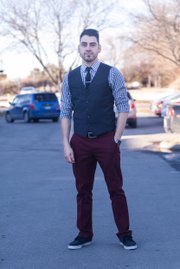 Relationship status: Currently in one.
Age: 29. I mean 30! I just turned 30!
Hometown: Denver
Time in Lawrence: Just visiting.
Occupation: 3-D motion designer
Dream job: Maybe to work for Blurred Studio in L.A.
What were you doing when scouted? I've been drinking all day (at a friend's wedding). I got my age wrong!
Describe your style: Mine is kind of city oriented from Denver. I'm repping the 303!
Fashion trends you love: I like to sport that (city-urban) look even for high-class events. I'll still wear my Nikes!
Fashion trends you hate: Skinny skinny jeans!
Fashion influences: I really dig (UFC fighter) Conor McGregor's fashion sense. ... I also like artists like April Ramquist. She's an amazing hair stylist.
What would you like to see more or less of in Lawrence? I would say more individuality (style wise).
Tattoos or piercings: Yes, a lip piercing.
Whom do people say you look like? Dave Navarro
What type of music do you like to unwind? I like electronic music too. Also, Panty Raid, Glitch Mob, Pretty Lights and Childish Gambino.
Tell us a secret: I listen to super horrible music like Little Debbie and Riff Raff.