Thursday, February 27, 2014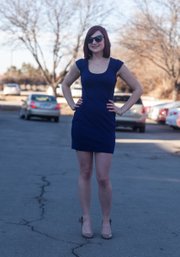 Relationship status: Currently in one.
Age: 27
Hometown: Denver
Time in Lawrence: Just visiting.
Occupation: Currently I'm working on my Ph.D. in psychology.
Dream job: Hopefully I'll be a psychologist in the correction system.
What were you doing when scouted? We actually went to a friend's wedding at the Eldridge Hotel.
Describe your style: Slightly edgy, I guess, and comfortable too. I like to wear a lot of black on a budget! So it's kind of hard to manage all of that together.
Fashion trends you love: I'm not into much fashion lately but I do like form-fitting stuff.
Fashion trends you hate: I'd say the "Little House on the Prairie"/bohemian chic is not my kind of thing. Like the cut-off mom shorts are not so good.
Fashion influences: Gwen Stefani and Betsy Johnson
Tattoos or piercings: None
Whom do people say you look like? Kirsten Dunst
What type of music do you unwind to? I'm more in the electronic music scene. But to chill, I like Mamoosa and Pretty Lights.
Tell us a secret: The "Real Housewives" series is my guilty pleasure.