Thursday, January 2, 2014
Health-related goals top the list of New Year's resolutions every year. Unfortunately, goals like eating healthier and getting fit usually get pushed aside by the time Valentine's Day candy hits the shelves. And while plenty of websites and apps help you set and track fitness goals, few offer guidance on what to wear.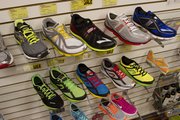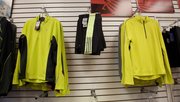 The gym is an intimidating place. Guys with Everest-sized biceps wearing muscle-revealing shirts can leave a newcomer more than a bit deflated. One way to boost your confidence and make exercise a regular habit is to make sure you dress to feel your best.
So, before you head to the gym, make a trip to one of the excellent athletic stores in downtown Lawrence to pickup some new workout clothes that will leave you feeling confident before, and long after, you enter the gym.
Tops
Unless you already sport some high-caliber guns, leave the tank top on the shelf. Instead, opt for a loose-fitting, moisture-wicking T-shirt (polyester or polyester blend) in white, gray or navy.
Fit is key here. You want it slim enough that you can see your progress, but not so too tight that your gut hangs out.
Some people will suggest that you wear a sweatshirt or hoodie. And while there are some benefits to this like keeping your muscles warm, which can decrease the risk of injury, they can also leave you hot and sweaty — a feeling newcomers usually find less than desirable.
Instead, leave the layering behind and simply add some warm-up jumping jacks and stretches to the start of your routine.
Bottoms
Bottoms can be a bit tricky depending on what your gym goals are on any given day. I recommend a couple pairs of versatile shorts that allow you to do any number of activities ranging from running and biking to lifting and stretching.
Length, pockets and fabric are all important to consider when purchasing shorts. You don't want retro basketball short shorts or ankle-hitting "short-pants."
Shorts should hit an inch or two above the knee and be fitted enough that they don't wag when you walk. In the age of mp3 players, consider buying shorts with pockets (preferably zippered). I find it easier to pull a device out of a pocket than bothering with it in an arm-strap.
Finally, choose an elastic-waist, polyester blend short that won't sag and will wick moisture away, leaving you cool and relaxed.
Shoes
It's crucial to invest in a pair of supportive, cushioned shoes. Always check with a qualified athletic shoe sales associate to find the best fit and feel to minimize injury.
Shoes allow you a bit more personal expression. Embrace bold colors, but don't get too matchy, otherwise you might draw some unwanted glares.
Now you just need to hit the gym. Best of luck with your New Year's resolutions!
— Nicholas Cunigan is a Ph.D. candidate in early American history at Kansas University. He blends classic fashion with modern details on a low-cost budget.