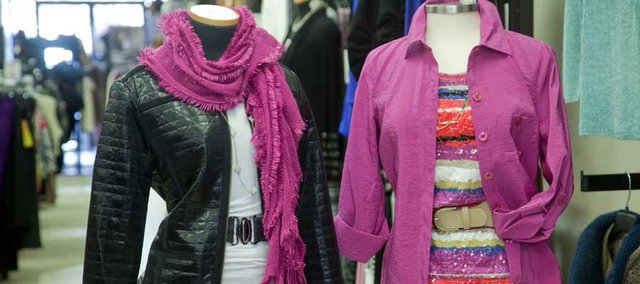 Thursday, January 9, 2014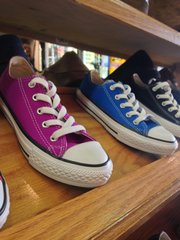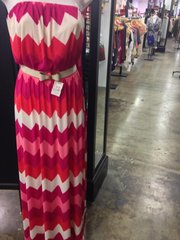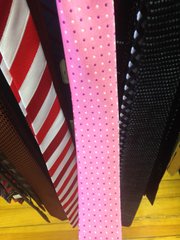 Lawrence, please don't flip. Pantone has revealed the official 2014 color of the year as Radiant Orchid, the color that should be warmly welcomed into the home, wardrobe and beauty regime.
Say it with me: Radiant Orchid. Don't stray after hearing that it is a member of the Lawrence-loathed purple family. It's Radiant Orchid. No other name shall be spoken here in crimson-and-blue country.
"Radiant Orchid reaches across the color wheel to intrigue the eye and spark the imagination," said Leatrice Eiseman, the executive director of the Pantone Color Institute, in a press release.
Sports affiliations aside, the color purple is symbolic for royalty and creativity, which is why Pantone feels strongly about the radiant appeal of this year's selection. The name alone is enchanting and exotic. Maybe if we all gave it a chance to speak its piece, this color would have much to offer.
Radiant Orchid says "captivating, magical and enigmatic," according to Pantone, a world-renowned authority on color and provider of color systems for various industries. This pinkish-fuschia-purple is layered with complexity, charm and encourages us to innovate.
Like it or not, the shelves of Lawrence boutique spring collections are slowly starting to acquire shades of the enemy, and it's likely to take off with designers
Ways to wear it
Think vibrant accents, not purple people eater.
Reflected in the name is the color's ability to bring out rosy undertones of the skin and give both men and women a healthy glow.
Treat the piece of radiant orchid clothing as a focal point and build upon the outfit with neutral tones from there, said Whitney Ball, salesperson at Saffees, 911 Massachusetts St. This includes black, greys, white, khaki and navy. Nothing else should be fighting to overpower this already attention-grabbing color. In large quantities, dress down with plain colors, not patterns.
"It's your accessory," said Ball, about a striking Radiant Orchid button-down shirt, brand new in the store. "You'd dress it with jeans and boots, and wear it as a jacket over a white shirt."
Orchid-colored jeans is another expressive, yet simple incorporation, as colored jeans have been in fashion for long enough that it doesn't turn heads for the wrong reasons. Do not by any means match the top to a bottom in the same shade, Ball said. Throw touches of this harmonious hue throughout the ensemble with accessories, like subtle earrings, necklaces or detailing on shoes.
Radiant Orchid can also be found in patterns, a spring maxi dress at Envy, 911 Massachusetts St., with the color boldly zig-zagged across the fabric along with white and tones of pink.
"The goal is to not overwhelm the eye," said salesperson Emmalee Squires. "I'd tone it down with a white cardigan and neutral accessories."
Even the menswear at Weaver's, 901 Massachusetts St., has a bright pink tie, polka-dotted with our favorite new charming color. Weaver's salesman Nick Hayes recommended a simple gray slim-fit suit, and a white or blue oxford shirt, with black shoes.
"Nothing too outlandish as far as stripes on the shirt or anything like that," Hayes says.
Radiant beauty regime
If it can bring a healthy glow through clothing, there's no doubt Radiant Orchid enlivens the skin with brushes of eye shadow.
"It is a lovely color and so versatile because it works well with cool and warm undertones" said Liz Black, esthetician and owner of Pür Aesthetics, 1440 Wakarusa Drive.

Liz Black's Makeup Bag
These Osmosis Skincare and Colour products are available at Pur Aesthetics:
Foundation, Oxygenetix, $60
Mineral powder, $34
Concealer, $29
Blush, $24
Liquid liner, $19
Pencil liner, $12
Eyeshadow trio, $26
Blinc Mascara, $30
Lip gloss, $16
Purify Cleanser, $18
Quench Moisturizer, $36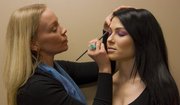 After cleansing the skin, apply concealer over your eyes so the color really pops, Black said. Press in your Radiant Orchid shade into the lower lid and crease in the outer corner of the eye. Use a lighter orchid shade and press into the upper lid above the crease and blend out to your brow in the outer corner of your eye for a soft, sultry look.
To place the finishing touches, she said, use a white eyeliner to smudge into the corner of your eyes by your tear ducts to make your eyes looks vibrant. You may use a black eyeliner to create more drama at night by lining just the top eyelid close to your lash line. Use your favorite mascara to sweep out long, flirty eyelashes.
After applying foundation, use a peach or coral blush (in addition to bronzer) to soften this "sassy look" and a light pink lipstick followed by clear lip gloss, Black recommended.
"Your pout should look unrefined, so that your eyes grab all the attention this spring," Black said. "Minimalist with a splash of color."
More like this story on Lawrence.com