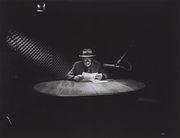 "Life does not present itself in clear patterns or chapters. I'm interested in the visual impact of transient images." — William S. Burroughs, in his essay "Paintings and Guns"
A story can be told with paint much differently than with words. For such a prominent and innovative writer who godfathered the Beat Generation, it's surprising to think of William S. Burroughs as someone who found using words an obstacle.
"He told the truth a lot in a way people weren't used to, and he showed some new ways to say things," says Jim McCrary, local poet and friend of Burroughs.
The Lawrence Arts Center will feature 50 of Burroughs' artistic life works in the William Burroughs "Creative Observer" exhibit in honor of the artist's 100th birthday on Feb. 5. The exhibit will provide a focus on the art he made during the last 16 years of his life lived in Lawrence — he was originally from St. Louis — where there seemed to be a real shift in his work from writing to artwork, says Ben Ahlvers, director of Arts Center exhibitions.
Burroughs made drawings, paintings, objects, making marks on any piece of wood, paper or cardboard he could get his hands on. This exhibit provides insight into his inherent desire to make art in all capacities, and the responsibility that the viewer or "creative observer" has to create by observing art, which he discusses in "Paintings and Guns."
"In that essay he talks about art and the role of the artist and the role of the viewer and how's there's this relationship between those three elements that can create something miraculous," Ahlvers says. "That's not specific to his work. He was referring to why he makes what he makes."
In Lawrence, Burroughs could go out into the country with his guns, where he could couple his love for creation and not-so-secret love for guns (he fatally shot his wife in a drunken game of William Tell) in his first-ever shotgun art pieces. He would set up a can of spray paint in front of a piece of plywood, and shoot the can so that it would explode, the bullet penetrating both the can and wood.
"The prolific nature that he seems to have had, I find it still gets to me a bit," Ahlvers says. "He didn't have to make anything, but he had this desire to make. As an artist and curator, I respect that a lot."
The exhibit will also feature his stencil work, some done with fish netting placed over wood or paper and spray painted, leaving interesting shadows and impressions on the surface; collage work never shown in galleries of images, writing and various incorporations of paintings, collected photographs and magazine clippings that he kept in a scrapbook fashion; as well as an assortment of collaborative pieces with Keith Haring, Robert Rauschenberg, Kurt Cobain, Ralph Steadman, Brion Gysin and George Condo.
"What I've found revealing throughout this whole process of curating and becoming a student of Burroughs is his almost compulsiveness to make things," Ahlvers says.
Yuri Zupancic, art director of William Burroughs Communications, is creating a multimedia installation in the front gallery: a projection of Burroughs' face will turn a mannequin wearing his actual suit and hat into a talking effigy, reading from his novels.
The exhibit will open with a reception Jan. 17, and run through March 2, providing much-needed opportunities to come back and find new things every day in the paintings, Ahlvers says.
After several months of researching Burroughs, revisiting pieces and absorbing his intentions, he feels he finally understands the responsibility of the viewer mentioned in the essay, and the responsibility of the artist to be "the true architecture of culture."
Other Burroughs festivities
Story Telling, 7 p.m. Jan. 28, Lawrence Arts Center
Friends and acquaintances share stories and memories of William S. Burroughs.
Barry Miles, Ira Silverberg and James Grauerholz, 2 p.m. Feb. 1, Lawrence Arts Center
Arts Center lecture with biographer of "El Hombre Invisible," his New York publicist, and literary executor of estate.
"The Nervous Set: A Beat Generation Musical," 8 p.m. Feb. 8, Lawrence Arts Center
A jazz musical, the principal characters based on Jack Kérouac, Allen Ginsberg with lyrics and writing by the iconic beat intellectuals Fran and Jay Landesman and music by the the jazz great Tom Wolfe.
William S. Burroughs at 100: An Offbeat Literary Tribute, 5:30 p.m. Feb. 5., Spencer Museum of Art
Readings of passages of Burroughs' writing and reflections from students of poet and KU Assistant Professor Megan Kaminski, as well as poet Jim McCrary present selected passages of Burroughs' writing.
An Evening with John Waters, 7 p.m. Feb. 20, Lawrence Arts Center. The lecture is sold out. Email marketing@lawrenceartscenter.org to be placed on a waiting list.
Filmmaker famous for a series cult films in '70s and '80s, including "Hairspray" and "Cry-Baby."
In conjunction with the "Creative Observer" exhibit, the Arts Center will host a series of films, lectures, and a production called "The Nervous Set: A Beat Generation Musical." Seventies and '80s cult filmmaker John Waters is traveling to Lawrence to lead an already sold-out discussion on Feb. 20.
London, Paris, Morocco, Berlin and various other cities around the world where he resided at one time or another have planned tributes, including a full month of festivities in New York.
"Lawrence should be proud that he chose to make this his home," Ahlvers says. "There's so much to work with with this guy's legacy that we'd be foolish not to do all of this."
The Great American Writer
It's no secret that Burroughs spent much of his life under the influence, providing subject matter for many semi-autobiographical books, most notably "Naked Lunch."
Burroughs described the book as "a frozen moment when everyone sees what is at the end of every fork." Published in 1959, his unconventional non-linear, abrupt and cut-up style of writing, along with radical depictions of drug-fueled hallucinations, violence and sexually explicit scenes, rendered the book incomprehensible and vile to some, but literary genius to others.
"Naked Lunch" also led to a precedent-setting obscenity trial in Boston, appealed later when the high court decided the book had redeeming social value. It was adapted to film in 1991, directed by David Cronenberg, which will be playing at the Arts Center on Feb. 11.
McCrary, the poet and friend of Burroughs, worked for William Burroughs Communications for 10 years, spending most days with Burroughs in his home typing up his finished works, helping him with paintings, cooking dinners and entertaining daily visitors.
"His book 'Junkie' (1953) is a very funny book and it also very true in the sense that it doesn't dodge around anything," McCrary says. "It tells the truth about drugs and drug addicts. It also wasn't either against or for drugs, but it was just his experience of what it was like to be a down and out junkie, and I think people respected him for that. He wasn't trying to glorify it or demonize it."
At the prompting of his editor and longtime friend James Grauerholz, a Kansas native, he moved to Lawrence in 1981. Burroughs appreciated the privacy he had here that he couldn't find in New York, where he was constantly bombarded by streams of his adoring fans who loved his "cool" nature.
"Here he could be left to do what he wanted to do," McCrary says. "He never had time to be alone in New York."
Burroughs was generous with his free time, McCrary says, spending hours each night reminiscing with close friends, some of whom came from long distances to relatively small Lawrence, like beat writer Allen Ginsberg and supermodel Lauren Hutton, following their appearance together on "Saturday Night Live" in 1981. His legacy helped put Lawrence on the map.
Beyond that, McCrary says, his literary and artistic influence was far greater worldwide than regionally.
"I think if the real William Burroughs left a legacy in Lawrence, gay marriage would be legal, and medical and recreational use of marijuana would be legal," he says. "I'm not trying to say he didn't influence the people he knew in Lawrence, but I think Lawrence influenced William more than William influenced Lawrence."
Audio Slideshow
Burroughs: 10 Years After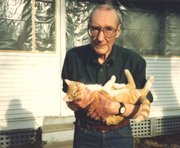 Considering the worldwide profile of Burroughs artistic contribution, it was inevitable that Lawrence would grow and grow in "public-mind association" with Burroughs in his final years, says James Grauerholz, literary executor of Burroughs' estate.
"It is a fact that of all the famous names who have some public association with Lawrence, it is Burroughs, far and away, who has done most to introduce the city to the world," Grauerholz says.
As far as artistic, literary and scholarly individuals, Burroughs has the most Google hits in association with this town, surpassing historic figures such as William Quantrill and John Brown, and African American poet Langston Hughes.
In many ways, he continues, Hughes was more famous than Burroughs, but he didn't think fondly of Lawrence because he survived racial cruelty here. Two of the structures directly associated with Hughes were demolished in the '80s so that property owners could build duplexes on the sites, Grauerholz says.
"There are more persons worldwide who are aware that Lawrence exists solely because of Burroughs than there are persons in Lawrence," he says.
The Great Prophet
Much like his writing style, Burroughs chose a repetitive style of relaying stories to his friends, says local friends and former caretakers Wayne Propst and David Ohle. He'd be hunched over a publication pointing out some science discovery one day, and would remember that story forever, telling that story over and over enthusiastically, adding more details each time. Propst thinks it was strategic.
"He probably thought that if he kept hammering and hammering, eventually he'd get a couple things across to people," Propst says laughing. "If he just told us everything once, we wouldn't know anything."
He had his strange superstitions and beliefs, Ohle says. For one, he thought each of his six cats were reincarnated people, one named Jane who he thought was late writer Jane Bowles.
In his yard, he sat in a self-built orgone accumulator, or a contraption that channelled orgone energy, a life force proposed by Wilhelm Reich. Orgone energy was released into the atmosphere when anyone in the universe had an orgasm, which Burroughs referenced in his novels as a way to alleviate heroin withdrawal or "junk sickness."
Burroughs' intelligence, however, was unmatched, Propst says. He was a visionary. After more than a few vodka drinks, he would critique victims of suburbia, wondering when they would reach their threshold and wake up.
"He would say, 'if people who live this white middle-class lifestyle of suburbia would think about they are doing for just one second, they would stop doing it,'" Propst says. "The thought that people sitting in their minivans actually screaming, 'How could you forget your tights!' at their kids. The idea of the 'American Dream' was awful."
He was a harsh critic of man (or human kind), addressing topics a century ahead of his time.
"All of my work is directed against those who are bent, through stupidity or design, on blowing up the planet or rendering it uninhabitable," said Burroughs in Grauerholz's essay "The Great Globe is Paint in Air."
He influenced the Beat Generation, the hippie era and the punk movement throughout the '70s, '80s and '90s, as well as the cyberpunk and steampunk literary genres and the non-literary media of film, music, audio art, painting and sculpture.
"He is still influencing them all," Grauerholz says. "Burroughs' work has not only grown steadily in literary-artistic influence worldwide, but has unrolled in successive waves of influence, as new generations discover his thought."
Even after his death in 1997, people started to reevaluate his work, each anniversary drawing more attention to his ideas of wealth inequalities and the instruments of control contributing to societal destruction. Burroughs wrote:
"Money? The idea is if you've got it. Someone else needs it. Wealth is based on poverty,"
"He was a prophet — quite literally — like H. G. Wells, in some ways, like Nostradamus, in others — and he foresaw the world that we are living in right now," Grauerholz says. "There are few other major artists whose work has influenced a series of generations in their culture."