Wednesday, January 15, 2014
Well, we made it to the other side of the holiday season. The big parties are over, and all of the guests have gone home. You are now faced with a refrigerator full of leftovers and a dilemma: should you serve mystery potluck now, or wait a few more weeks and play "Guess That Mold"?
Neither. Get creative and turn boring leftovers into homemade hot pock..., er, toasty pouches! Yeah, that's a good name.
If time is of the essence, buy a can or two of refrigerated pizza dough. If you're not in a hurry, you can easily make a batch with one of the million or so recipes available. Let's assume for the moment that you're on a mission to be done in the kitchen once and for all. Crank up the oven to 425 degrees and crack open that can of dough.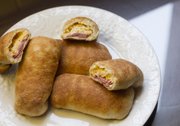 Grease a large baking sheet and unroll the dough on a clean countertop. Don't grease the countertop, or you'll be snarling at your dough when it refuses to roll out. Ask me how I know.
Pat, roll, or otherwise coerce the pizza dough until it forms a large-ish rectangle, at least 15 inches on the long side. Run a pizza cutter lengthwise down the center, and divide the resulting rectangles into three pieces each.
Now for the creative part. Dig around in the fridge and see what's there. Hmmm, I spy a quarter-cup of spaghetti sauce, a handful of browned hamburger and some mozzarella. Perfect. Divvy it between two pieces of dough, piling it neatly down the middle of each one. Let's see... half a cup of broccoli casserole and some diced chicken? Load up two more rectangles. Ooh, we have brisket? Stir a tablespoon of sour cream together with a teaspoon of horseradish mustard; spread this on the last two pieces of dough. Top with some brisket and shredded cheddar cheese.
A word of warning: avoid going overboard with fillings that are really soggy, and resist the temptation to pile things on too heavily. It'll all end in tears and dish-washing. Trust me.
Overlap the long edges of each rectangle and pinch to seal. Place seam-side down on the baking sheet and tuck the ends under to form a neat little package. Pop the pan into the oven and bake for about 15 minutes, or until the crusts are a nice, golden brown. If you got a little carried away adding fillings, don't be afraid to add an extra minute or two to your baking time.
If you wound up making more of these little dudes than you can eat at one sitting, don't worry. That's almost the point. After they've cooled off, you can stick each one in a sandwich baggie to be frozen. When you're in the mood for a quick snack or a light meal, just unwrap one, stick it on a plate, and zap it in the microwave for a minute or two.
Enjoy!