Thursday, January 16, 2014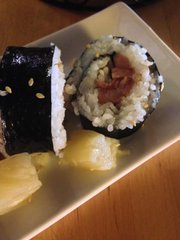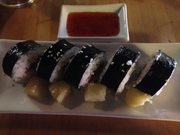 "Spam gets a bad rep," said co-owner of Ramen Bowls Shantel Grace.
I'd say so. When I ordered the spam musubi appetizer, I spent the waiting time cringing at the thought of gelatinous "mystery meat" that I remember sliding out of a can in my parents' kitchen as a kid.
In Hawaii, it's a different story. Considering its wild popularity on the island, nicknamed "Hawaii's Steak," the salty luncheon meat has found its way onto the Japanese, Hawaiian-Pacific Ramen Bowls menu.
Arriving like a sushi roll, five pieces sitting carefully on a long tray garnished with pineapple, the Spam wrapped in cooked white rice and nori (seaweed) looked sophisticated. The sweet chili dipping sauce adds a tangy flavor to this comfort food. I completely forgot my previous reticence.
Where to get it: Ramen Bowls, 125 E. 10th St., or call 84-BOWLS for delivery
What you'll pay: $5 plus tax
Try it with: Malasadas, a traditional Portuguese dessert made island-style with deep-fried balls of dough (essentially doughnut holes) and covered in Maui-style sugar. Served with a chocolate dipping sauce.
Also on the menu: At least nine different types of ramen, customizable with several add-ons and chef requests, and a number of delectable rice dishes, including Island Fried Rice, also made with spam. Head to Ramen Bowls during happy hour, between 2 p.m. and 5 p.m., and receive free gyoza appetizers and discounted Japanese beer, sake and specialty drinks.
— Off The Beaten Plate highlights some of the more exotic, oddly named or inventively concocted dishes from local menus. Know of an offbeat item we should check out? Email food and features reporter Nadia Imafidon at nimafidon@ljworld.com. Follow her at Twitter.com/nadia_imafidon.
More like this story on Lawrence.com