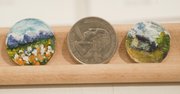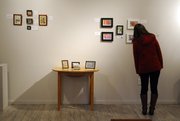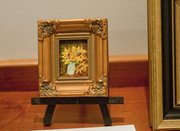 Baldwin City — Wall space won't be a concern for the year's first exhibit in the gallery at the Lumberyard Arts Center in Baldwin City.
"Maybe table space, but wall space won't be a problem," said Sandy Cardens, Lumberyard gallery director. "Some of the works are so tiny, I think we'll have to set them up on a table with small easels."
The Itty Bitty Picture Show features two-dimensional works of pencil, watercolor, oil, pen and ink and mixed media no larger than 4-by-6 inches. It is open to artists from Douglas, Franklin and Johnson counties. The show opened Jan. 10 and will run through Feb. 1. A prize of $50 will be awarded to the first-place entry, and second- and third-place works will earn as yet undetermined cash prizes.
Cardens said her inspiration for the show came from a postcard exhibit the Baldwin Arts Council, sponsored before the Lumberyard became the arts center. The works in that show were those of artists the Association of Community Arts Agencies of Kansas selected to print in annual postcard collections from 1978 to 2002.
"I thought it might be a cute little thing to do because they are so itty bitty," Cardens said. "I thought it might appeal to people. It seems like it did."
The exhibit features 56 works by 16 artists.
Cardens said among those who submitted art for the show were Christie Carlisle, Kathy Bourgeois, Roma Earles, Sharron Spence and Rosemary Murphy, whose work was once chosen to be in an annual postcard collection.
A retired science teacher, Spence said she was excited to be able to be part of a show in a place that was special to her.
"I started painting four years ago when I retired," she said. "That was my dream. The Lumberyard has given me an opportunity I could find anywhere else, and that was people and teachers I could share ideas with."