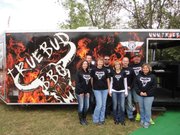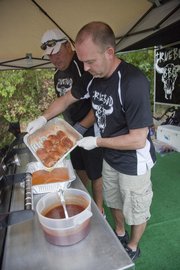 There are people who drink beer and smoke meat at a handful of barbecue competitions a year.
Then there are people who win.
Then there are people who win it all — and a local team has just joined that elite echelon, where barbecue isn't just for fun anymore.
Truebud BBQ was crowned this month in Nashville as the Kansas City Barbeque Society's Team of the Year, racking up more points in the 2013 season than 4,000 other teams nationwide. In one year, Truebud hit 41 weekend competitions in 14 states, driving 22,000 miles and smoking an estimated 3,200 pounds of meat.
So they're nuts, right?
"Let's just say they're passionate," said Kansas City Barbeque Society executive director Carolyn Wells. "You can't get to be Team of the Year cooking at four or five contests a year. It has to be a serious hobby."
Pitmaster Tim Grant, of Tonganoxie, and Boyd Abts, of Eudora, lead the Truebud team (Abts missed just one of the 41 competitions, to go on a family vacation). Grant's fiancee, Christy Brown, was at most of the cookoffs, too, with friends Travis Trumper, Brian Rogers and Doug Riley, all of Iowa, rounding out the roster.
"It's like having two full-time jobs," said Abts, who has his own guttering business. "Between preparing for the contest, ordering meat, picking out the best stuff and then hitting the road and driving like we did, it's just a never-ending deal."
Abts' wife, Angie Abts, said she and their three sons missed him terribly but supported him "100 percent" and couldn't be prouder.
"There was one point when he said, 'I'm just so tired,'" Angie Abts said. "I said, 'Oh no, no, no — you're not quitting because I'm not going to go through this next year.'"
"Get it done!"
Truebud has been a contender in the Team of the Year points chase the past few years, propelled mostly by consistent wins in the chicken and ribs categories. This year, Grant said they fined-tuned their pork and brisket recipes and went to even more competitions than in 2012.
"We were pretty much unstoppable," Grant said.
This year Truebud was grand champion at 16 competitions, including a streak where they won six in a row, Grant said. They appeared on TV, in an episode of "BBQ Pitmasters". And not only did they win Team of the Year overall (edging the second-place team in a tie-breaking point tally), they were Team of the Year in three of the four individual meat categories, a possibly unprecedented feat in Kansas City Barbeque Society history.
"They've obviously mastered what it takes to win competition barbecue," Wells said. "There's a variety of theories on that, but I think the figures speak for themselves."
Meticulousness is one of Truebud's signature strategies. Grant said he cooks about 80 pounds of meat per competition (think smoking five entire slabs of ribs just to pick the 10 best bones for judging). Consistency is huge. So is drive.
"It's definitely something that you can't do year after year," said Grant, who has an IT business. "I had to give up a lot of stuff to do this."
Grant said he pays for most of the meat and travel expenses, while Truebud's sponsor, Big Poppa Smokers, provides some equipment and other ingredients. Big Poppa sponsors a dozen of the country's best barbecue teams and hosted its own in-group points chase — which Truebud also won, netting $13,000 from Big Poppa to donate to their charity of choice, the Dream Factory of Greater Kansas City.
Truebud will be choosy about which competitions to enter this year. Last year was exhausting and, Grant figures, would be impossible to repeat anyway.
They'll probably hit some cookoffs they've always wanted to try but haven't, and revisit others they thought were especially fun. And they'll set their sights on winning some select majors like Kansas City's American Royal Barbecue and Tennessee's Jack Daniel's invitational.
There's another competition Truebud has an eye on, Grant said. They've never been grand champion at Lawrence's Sertoma 48 BBQ, only reserve.
They'll be there in May, Grant said, and they'll be looking to win.