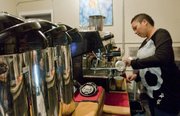 A new coffee shop is now pouring in North Lawrence, ending a decidedly decaf decade on that side of the river.
Owned by four Lawrence residents, the Brewhaus opened this month at 624 N. Second St., next door to the Iwig Dairy Store.
Co-owner Tom Mac Ewan said partners were looking for a spot in town to open a coffee house, heard North Lawrence hadn't had one in ages and thought that it should. He said the Brewhaus is still in a soft-opening phase but that its high-visibility location offers the potential for adding a drive-through in back later on, and a small meeting room within the 1,420-square-foot shop.
Ted Boyle, North Lawrence Improvement Association president, said he thinks the Brewhaus will become a good community gathering spot, which North Lawrence needs.
"Between that and Iwig Dairy, both those are neighborhood businesses — mom-and-pop businesses," Boyle said. "That's the kind of business we want in North Lawrence ... both places are a good place to see people."
The Brewhaus, currently open from 6 a.m. to 4 p.m. daily, serves a handful of fresh baked goods and frittatas made in Lawrence by the pastry chef at Merchants Pub & Plate, Mac Ewan said. Their coffee comes from three different roasters, and some drinks are made with Iwig cream or half-and-half.
Brewhaus has exclusive rights to sell Specialty Java — a Minnesota-based roaster offering a variety of organic coffees — in northeast Kansas, Mac Ewan said.
"We're kind of telling people in North Lawrence, 'This is your coffee,'" he said. "Especially now that we're here in North Lawrence, it seems to be all the better for us that we offer organic selections."
Brewhaus' dark roast is from PT's Coffee Roasting Co. of Topeka and the decaf is from Greenstone Coffee Roasters of Lawrence.
Mac Ewan said he and co-owner Beth Pine started the idea and secured equipment from a shop that was closing in Ottawa. They advertised on Craigslist for more partners, and Andy Vigna and Joshua Townsend signed on.
Boyle said North Lawrence's last coffee shop, located in the I-70 Business Center, closed about 12 years ago. The small neighborhood doesn't need a lot of coffee shops, he said, but having one sure will be nice.