Thursday, January 30, 2014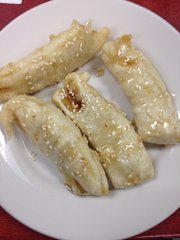 The honey fried bananas dessert at Little Saigon Cafe is warm, deep-fried sections of banana with drizzled honey and topped with roasted sesame seeds. If you don't want to feel guilty for ordering dessert, let the fruit factor persuade you, although the battered coating probably cuts the nutritional value in half. In fact, it's almost like they've disguised the banana by turning it into a fritter dessert with a delicious candy-like coating. Banana-lovers should definitely partake; cut through the crisp outside to find the sweet and creamy fruit inside.
Where to get it: Little Saigon Cafe, 1524 W. 23rd St.
What you'll pay: $2.50, plus tax
Try it with: Bubble smoothies (with tapioca pearls); choose between mango, strawberry, coconut, honey dew and taro.
Also on the menu: All of your Vietnamese favorites including pho, beef stew, pork broth with noodles, bun (vermicelli noodles), lo mein, and several selections for both meat and vegetarian entrees. The other dessert option is fresh fried mini donuts (more like beignets) sprinkled with sugar.
— Off The Beaten Plate highlights some of the more exotic, oddly named or inventively concocted dishes from local menus. Know of an offbeat item we should check out? Email food and features reporter Nadia Imafidon at nimafidon@ljworld.com. Follow her at Twitter.com/nadia_imafidon.