When it comes to fundraising, a little competition is good for the bottom line.
So the thinking goes at Theatre Lawrence, which is preparing to hold its annual "Dueling Divas" event Saturday night at its 4660 Bauer Farm Drive location. Eight local singers compete against each other "American Idol"-style to see who can raise the most money.
"Each of the singers gets to sing twice, and the audience votes for who they want to see win," said Kay Traver, marketing director for Theatre Lawrence. "One dollar equals one vote."
This marks the fourth year Theatre Lawrence has held the event, and Traver said it's designed not just to raise money for the group's operations but also to showcase local talent.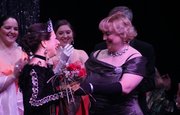 If you go
Dueling Divas will start at 6 p.m. Saturday, with hors d'oeuvres and drinks at Theatre Lawrence. Divas take the stage at 7:30 p.m. Tickets cost $60, with premium seating $75. Tickets must be reserved in advance through purchasing in person at Theatre Lawrence, 4660 Bauer Farm Drive, or over the phone, 843-7469.
"We try to get a mix," she says. "We want to have some singers who are heavily involved with us, but we also want to get community members that are not as involved. Maybe they're new here. We want to try to draw new interest, new crowds."
Among those newcomers is Ashley Benes. A member consultant at Truity Credit Union, Benes holds a bachelor's degree in music and a master's degree in opera performance from Kansas University.
"I was looking to get more involved with (Theatre Lawrence)," Benes said. "I'm really excited to get on their stage and check out their (new) space."
Kitty Steffans, the visitor services and events coordinator at the KU Natural History Museum, feels the same way. Steffans, who has appeared often at the Lawrence Arts Center and was associated with the Victor Continental shows, is finally getting a chance to work with Theatre Lawrence too.
"I've worked with (music director) Mary Baker previously," Steffans said, "and she recruited me for this."
Traver said the theater made a few changes to the way they approached "Dueling Divas" this year.
"In the past, we featured eight divas we hand-selected," she said. "This year, we selected five women and two female impersonators. Then we held a wildcard competition in the Big 6 Room at the Eldridge, where we invited anyone to come sing karaoke. Emily Hamilton got the most votes, so she'll be our eighth diva."
"It's really a huge breadth of style," Steffans said after a recent rehearsal. "We've got an opera singer, a blues singer, I belt out show tunes — it's really going to very diverse."
Winning the competition is simple enough in theory: Be the singer who raises the most money. But is there a secret to pulling it off?
"I worked very hard at fundraising before the show," said Erica Fox, last year's champion. "I'm not from here, so I went to all my friends and worked the online voting."
In addition to voting at the performance, anyone can cast their vote beforehand by pledging support at Theatre Lawrence's website.
"You go out to theatrelawrence.com and click on the 'Divas' icon," Traver said. "Then you click on the 'Vote Now' icon, and it'll walk you through the process of choosing your donation amount and the diva you want to support."
Benes is following in Fox's footsteps, hoping to recreate her success.
"I've been promoting it on Facebook," she says. "I also sent it to my family in Oklahoma, and I sing at a church in Topeka, so I've pushed it there too."
"My main strategy is to sing my pants off," Steffans said with a laugh. "One dollar equals one vote, though, so all my friends should be able to support me."
Fox won't get to defend her title, but she will be present for a farewell tribute to her crown.
"I have the honor and privilege of performing a featured number while the final votes are being tallied," she said.
Regardless of whom she crowns as her successor, the night promises a lot of excitement.
"This is going to be a really fun, really entertaining show," Steffans said.