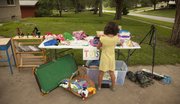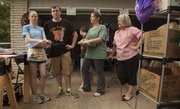 Garage Sale don'ts
Careful not to be doing any of these things at your sale:
• Close early. You don't know how far these people have come from to check out the loot, Rowland said. Stay open for the hours you advertised, rain or shine.
• Appear one-sided. Not everyone has kids, Becker said. Don't just put out toys.
• Sell smelly stuff. If it smells like pets or smoke, I'm not buying, Becker said.
• Hold items without a payment. Some people won't come back and you didn't have the chance to offer it to anyone else, Rowland said.
• Put out a bunch of not-for-sale items. People get frustrated, Jordan said.
• Keep it in the garage. Make a nice display on the driveway to lure them in, Becker said.
• Leave signs up. Don't direct me to a sale that isn't there, Rowland says.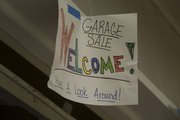 It's time to downsize. More than half of the clothes in the closet have been untouched for about a year now, and the basement storage room is resembling some sort of hoarders situation worthy of a reality show.
All this mean it's time to hold a garage sale. Before hauling the inventory up the stairs to the garage and putting signs on street corners, take some advice from some local garage sale frequenters who have put on a garage sale (or five) in their day. Setting up shop in the garage isn't as easy as you might think.
Pick a date
Lawrence resident Sally Neary, who's held five garage sales, said the best time for a big sale is the weekend in August when college students head back into town. They buy furniture, dishes and anything they can use in their new apartments, she says.
One of the most important factors to consider when picking a date is making sure you can dedicate the whole day (or days) to manage the sale and chat with customers. Lawrence resident Kristi Becker swears by having a Thursday night preview to kick off two more seven-hour sales during the weekend.
"We opened for just a few hours and I'm pretty sure we made $400," Becker said of a four-family garage sale last weekend that raked in more than $1,000 at her house on Lawrence Avenue. "We had to stay open an extra hour because people kept coming through."
Location
Out of the four families in the combined sale, Noel Rowland had the most visible spot with cars constantly passing by. Even though placing an advertisement in the paper is helpful, they had the early bird crowd scouting the sale during set-up the day before.
Strength in numbers
It's better to have too much than too little, Becker said, to have a worthwhile selection. Ask neighbors or friends to do a combined sale. If a family member has a box of items to get rid of, throw it in the mix as well.
Clean everything
"You don't want anything to smell," Rowland said. "We've been at garage sales and it smells, and we just walk away." Wash clothes and other items, she said. Don't set anything out that looks dirty.
Sort and price
While you're pulling together and sorting goods to sell, go ahead and slap a price tag on them to increase efficiency on the prep work. As for pricing, be reasonable, said Lawrence resident Cindy Yulich. Don't expect to get the same amount you paid, said her son Jordan, who also manned the sale.
Let people haggle, Neary said. Remember the goal is to get rid of your things.
"The things that may be more valuable to you might not be as valuable to other people," she said. "Let them make an offer."
Set the scene
To avoid purchasing tables to display goods, Neary said, ask neighbors to borrow some for the day.
Yulich, Rowland, Becker used makeshift tables out of saw benches and chairs holding up a long plank of wood.
People do the quick drive-by to see if it's worth it before leaving the car.
"You want to put eye-catching things up front," Becker said. Have a nice mix of tools, toys, furniture; something for everyone.
No one wants to dig through boxes, Becker said. Arrange books on a shelf (if it's not for sale, label it as such) and neatly fold clothes and lay out assortment in an easy-to-browse way, Jordan said.
Post signs to clearly label different categories of items.
Arrange items in a way that makes sense (i.e. keep kids stuff at kid level).
"We had a tent set up so people could see exactly what it looks like," Becker said. "People are more than willing to go for it when it's not in a box."
Be honest
If it's broken, shredded or worn, don't sell it, Becker said. Keep a power strip, batteries and light bulbs on hand for customers to try out electronics.
"We had a bike with a tire that needed replacing, so we made sure the person knew before buying it," Rowland said.
Man/maintain the station
Walk around and refold or reorganize any area that's been tampered with to keep the clutter to a minimum.
Don't leave money out
"People will walk away with it if you're not careful," Rowland said.
Closeout sale
As the last hours wind down, turn it into a big markdown sale, Neary says. No one can pass up a good deal, and it's less cleanup for you.