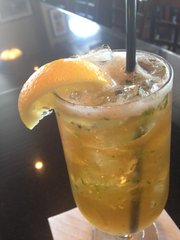 It's absolutely mandatory to sip on an iced tea this summer, whether there's a porch in your life or not. The Jayhawker bar at Eldridge has a featured iced tea cocktail that meets all seasonal criteria: refreshing, fruity and flavored with fresh summer herbs.
The apple mint bourbon iced tea is straightforward as far as ingredients go: bulleit bourbon, apple juice, lemon juice, finely chopped mint and unsweetened black tea. Only one liquor in the mix, the rye holds a strong presence in this cocktail, the overpowering whiskey flavor making it a long-lasting beverage to savor. Squeeze the lemon garnish in the glass for just an extra kick of citrus.
Note: Because of the high alcohol content, the bartender can add more apple juice or tea to tinker with the concoction to cut back on the potency.
The hard stuff: Bulleit Bourbon
Where it's served: The Eldridge, 701 Massachusetts St.
What it costs: $8
Other libations at this location: Other summer fare includes a bloody maria garnished with a pickled green bean and pickle spear, cucumber cantaloupe cocktail, basil berry rum, and strawberry sparkler with infused vodka, limoncello, and Spanish cava. Everyday cocktails include white and red sangria, popular cherry limeade, "CocoChata" with RumChata and frangelico, and the "Jayhawk Java" with Bailey's, frangelico, amaretto, Hot Damn, and coffee.
— Drink up. Stay classy. Don't forget to tip your bartender. And let us know if you want to suggest a libation for this feature — email nimafidon@ljworld.com or Tweet her at Twitter.com/nadia_imafidon. Cheers. PrintFavorite