There aren't many restaurants that had their humble beginnings at a small gas station mini-mart. Truth be told, you probably know exactly which restaurant I'm referring to, don't you?
No longer confined by the gas station decor of its past, Basil Leaf Café is hugely successful (to no one's surprise) at its new location at 616 W. Ninth St. While I regret that I never paid a visit to the gas station version of this excellent Italian restaurant, one thing is for certain: I will make up for it — twofold — in visits to its downtown location.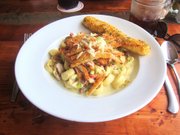 Voted as the best Italian restaurant in this year's Best of Lawrence, Basil Leaf has a serious fan base, and I can understand why.
My partner and I headed there on a Saturday for lunch, and while I was immediately impressed by the affordable menu, the positive impressions were just beginning. The interior is cozy, decorated with reclaimed wood, wine bottle light fixtures, and flooded with southern light. The overall vibe is welcoming and comfortable, like that of a small-town diner.
There are no formal menus at Basil Leaf Café (it was a pleasant surprise to avoid the fussiness of table menus), so we placed our orders at the entryway counter before taking our seats.
I went for the Cajun Penne (if it's got a kick, I'm usually sold), and my companion played it creamy with the Tortellini Cordon Bleu. It seemed like no time at all before we were face to plate with steaming deliciousness from heaven above. Our dishes not only smelled superb, but were also picture perfect.
I was temporarily in awe of the presentation before my stomach cried out for attention, reminding me of the purpose of this visit. With that, conversation died entirely as we savored every bite of our fine Italian meals.
The Basil Leaf Café has so many great things going for it: The prices, the cozy feel, the quality and presentation of the meals are all spot-on. What's more, the service is excellent and the fresh table flowers were the garnish on top.
While we dined in for a late lunch on a Saturday, I know the evening crowds can get pretty intense, so be prepared to wait if you're set on dinner. Just know this: the food is worth the wait!

— Jessica Pauly, aka Mrs. Mass., gives her thoughts on shopping, urban living and what's new in Lawrence in CheckOut weekly and on her blog, mrsmass.com.