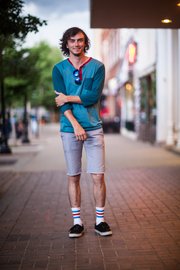 Name: Garrett Rathbone
Age: 24
Hometown: McPherson
Time in Lawrence: Three years
Relationship status: It's complicated.
Occupation: Web developer
Dream job: Being able to travel and to skateboard
What were you doing when scouted? Going to Minsky's
Describe your style: I like dressing presentable. That's what my dad taught me.
Fashion trends you love: I like slim-fit clothing and skateboarding styles. I also like baseball tees.
Fashion trends you hate: Mom butt jeans
Fashion influences: Mainly skateboard culture. A lot of skateboard companies make fantastic clothing. They're usually well-made and stylish.
What would you like to see more or less of in Lawrence? More people wearing suits. Nothing comes to mind for less of.
Tattoos or piercings: Yes, just a personal tattoo
Whom do people say you look like? My friend Weston
What type of music do you like? Rock and roll and classic rock. I'll listen to Kesha too.
Tell us a secret: "Grease" is a great show!