Get ready, Lawrence shoppers. The 55th annual Sidewalk Sale is on July 17 this year, and it's a sunup to sundown affair that requires a bit of strategizing.
With sidewalks flooded with cheap goodies and overzealous customers, it's hard to judge just how far to wander down Massachusetts Street in the sweltering heat before calling it a successful day and hauling the loot home.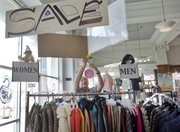 With the help from Sally Zogry, director of Downtown Lawrence, Inc., here is a block-by-block look at just a small sample of what the sale and businesses have to offer to help shoppers get the most out of the day. Remember, there are loads more stores participating in the sale than we have room to talk about here, so don't be afraid to search out your own deals.
600 block
Waxman Candles, 609 Massachusetts St.
Just because their products aren't outside on the sidewalk, don't think your favorite store isn't involved in the sale, Zogry says. For obvious weather reasons, the candles stay inside Waxman, so don't skip out deals because you can't see them from the street.
JoS A. Bank, 646 Vermont St.
A new member of the Downtown Lawrence, Inc., JoS A. Bank Factory Store is cutting deals on menswear. It might be the perfect day to invest in a suit during the height of wedding season.
Refreshments at La Prima Tazza, 638 Massachusetts St.
If you're starting on this side of the street, get amped with an array of iced coffee delicacies like the grasshopper (mint, chocolate and cold press) and non-coffee treats like a limeade and sweet snacks from Apple of My Pie Bakery.
700 block
Hobbs, 700 Massachusetts St.
Outside Hobbs will be a giant block of ice and an industrial fan to blow cool air on any heat exhausted shoppers. As far as store treasures go, this is the stop for quirky odds and ends you never knew you needed.
Bloom Bath and Body, 704 Massachusetts St.
Bloom has been stockpiling scarves, accessories and pajamas in preparation for the sale, Zogry says. Look for some "deep discounts" on these items.
Refreshments at Mass Street Sweet Shoppe, 727 Massachusetts St.
The Sweet Shoppe offers Ice cream, shaved ice, shakes floats to cool off, plus handmade candies for a sugar high.
Cooling station: Grab a seat and some free water at The Eldridge, 701 Massachusetts St. or Cosmos Indian Store & Café, 734 Massachusetts St.
Public portable toilets will be located in the lot between The Eldridge and 715.
800 block
Sunflower Outdoor and Bike, 804 Massachusetts St.
One of the hottest (as far as deals go) places to be at the downtown Sidewalk Sale is Sunflower Outdoor and Bike. "They bring a semi's worth of stuff in for the sale," Zogry says. Stop by near the end of the day for goods marked down even more to get rid of what's left.
Downtown Lawrence Inc. headquarters, 808 Massachusetts St.
At a table next to some street performers, DLI will be handing out Sidewalk Sale guides, downtown brochures and available to answer any questions. There will also be a misting machine if you need to cool down, Zogry says.
Shark's Surf Shop, 813 Massachusetts St.
If you've been looking to get your hands on TOMS shoes, Zogry says, Shark's is the place to shop for good deals.
Refreshments at Sandbar Subs, 745 New Hampshire St.
Head east from Mass. Street to check out stop in even more shops on Eighth St. and grab breakfast, a sandwich, or salad at Sandbar Suns to build up some stamina for the rest of the shopping day.
Notable newcomers on Eighth Street
"The fun thing is that this is the time where shoppers can check out the new kids on the block," Zogry says. Here are a couple of places worth stopping in, especially if you haven't yet:
• Essential Goods, 825 Massachusetts St., for local artwork, handcrafted bath and body products, jewelry and cards.
• Cindy's Simple Life, 16 E. Eighth St., for "urban general store" fare such as offbeat gifts, greeting cards, children's toys, pet accessories and household items.
Cooling stations: Grab a seat and some free water at Pickleman's, 818 Massachusetts St. or at TCBY & Mrs. Fields Bakery, 845 Massachusetts St. or Peoples Bank, 745 New Hampshire (corner of 8th and New Hampshire St.)
900 block
Extra Virgin, 937 Massachusetts St.
New to the Sidewalk Sale, Extra Virgin Olive Oil will be doing a tasting of their finest olive oils and balsamic vinegars from around the world.
Jewelry by Julie, 19 W. Ninth St
Often overlooked because of its side street location, Jewelry by Julie Kingston not only supplies handmade elegant jewelry, Zogry says, but she also sells scarves and purses. Anyone looking for one-of-a-kind accessories should stop by.

Refreshments at Ingredient, 947 Massachusetts St.
Patio dining or within the cool indoors for people-watching, Ingredient offers plenty of meal options or quick bites. Cool down with one of their salads like the Sweet Leaf with strawberries or the Salmon Flats with avocado and roasted red peppers
1000 block
Urban Outfitters, 1013 Massachusetts St.
"There are people here at 5 a.m., ready to go and ready to shop," Zogry says. Not just a few people, either. There will continuously be a line down the block for the usual 50 percent off already-marked-down items and other deals on shoes, clothing and a number of apartment accessories and novelty items.
Mass Street Soda, 1103 Massachusetts St.
When things get grim in the long line at Urban, perk up with more than 1,000 varieties of soda from all over the world to choose from. They'll also make you a chocolate or vanilla ice cream float with any soda you'd like.
Refreshments at Sylas and Maddy's, 1014 Massachusetts St.
No hot day is complete without a scoop of locally made ice cream. Also available are old-fashioned shakes and malts and fresh lemonade and limeade.
Cooling station: Grab a seat and some free water at Greenhouse Culture, 1001 Massachusetts St. or at The Granada, 1020 Massachusetts St.