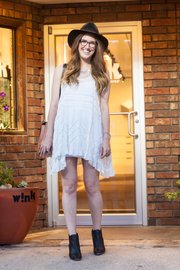 Name: Brittany Lichty
Age: 24
Hometown: Chandler, Ariz.
Time in Lawrence: Nearly six years
Relationship status: Met the one!
Occupation: I am a full-time student at the University of Kansas, and I intern for the Spark Project.
Dream job: I would love to be an industrial organizational psychologist, but my dreams seem to always be changing.
What were you doing when scouted? Friday night, date night: just had dinner.
Describe your style: I love hats! I'd love to rock a hat every day, including in the classroom if I could get away with it. I like to wear a lot of neutrals: blacks, grays, creams and everything in between and to spice up my outfits with fun jewelry, bold accessories, and hats of course. My style can be pretty eclectic, one day I'll be loose and flowy, and the next day I want everything tight and black.
Fashion trends you love: I just like someone to look natural in what they're wearing. Someone that looks unique, looks like it's them and that they own it.
Fashion trends you hate: I would really appreciate women being a little bit more into fashion and less showing their body parts. Less asking for attention for what their momma gave them and more about what looks good on them.
Fashion influences: You know, I'm not really sure. I like beautiful people and beautiful things. Anything aesthetically attractive I draw influence from, even architecture.
What would you like to see more or less of in Lawrence? I would love for the food truck revolution to take Lawrence by storm.
Tattoos or piercings: Nose ring, belly button and ears piercing
Whom do people say you look like? Liv Tyler to Alanis Morissette to Megan Fox. Anyone with dark hair and blue eyes will bring up ideas.
What type of music do you like? I love funk! It's within my soul. I also like Talking Heads, Queen, David Bowie.
Tell us a secret: I secretly still sleep with a Curious George stuffed animal that has traveled the world with me because I refuse to sleep without him.
More like this story on Lawrence.com