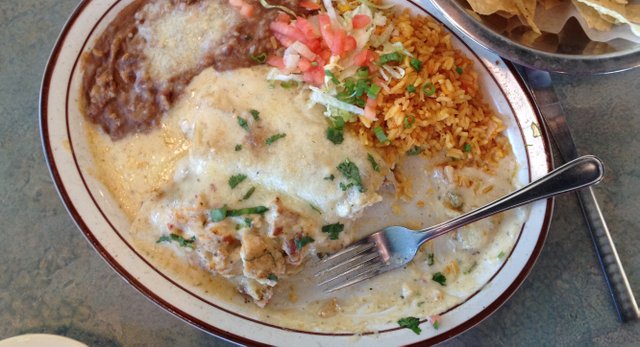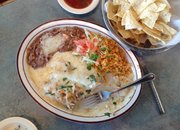 A great many of the entrees at Lawrence's Mexican restaurants look the same: oval plate, rice, beans, tortilla-encased-something covered with melted cheese. This one is no different on the outside but has something unusual on the inside — okra. The vegetable's distinct nutty flavor joins shredded chicken under all that queso.
Okra enchiladas are not one of those authentic, unknown-to-gringos dishes from deep down in Mexico, according to restaurant owner Francisco de la Torre, who hails from the state of Michoacán. Rather, he said, he created the menu item for diners on this side of the border.
Where to get it: El Potro Mexican Cafe, 2351 W. 31st St.
What you'll pay: $10.80, for the dinner portion.
Try it with: Chips, salsa and white cheese dip (free with your meal). If you like, swap the typical refried beans for El Potro's soupy borracho beans.
Also on the menu: Pretty much everything — it's huge. Offerings include a fair number of items from the sea, including seafood nachos. Fun/bizarre fact: El Potro, located in a building formerly home to Backyard Burger, also has a drive-through.
— Off The Beaten Plate highlights some of the more exotic, oddly named or inventively concocted dishes from local menus. Know of an offbeat item we should check out? Email reporter Sara Shepherd at sshepherd@ljworld.com. Follow her at Twitter.com/saramarieshep.