The Kansas City area is filled with a wide variety of farmers markets that are well worth a visit. This week I'd like to take a look at some of the most interesting weekend and weekday markets in the area.
The City Market just north of Fifth Street between Main and Grand streets, offers a large number of vendors as well as food stands and restaurants that operate all week long. On Sundays, the Market is home to the community yard sale where people sell antiques and lightly used items. A book sale takes place each first Saturday of the month. Also nearby is the fascinating Steamboat Arabia Museum.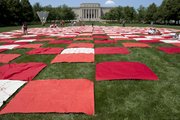 The City Market is also home to a number of events, including an outdoor screening of "The Shining" (9 p.m. Friday), a wine walk (5 p.m. to 8 p.m. Saturday), and the return of the Mardi Gras style Crawfish Festival on Aug. 8. The farmers market takes place Saturdays from 7 a.m. to 3:30 p.m. and Sundays from 8 a.m. to 3:30 p.m.
In South Kansas City, Kansas City Organics has been offering fresh-picked, locally grown produce, specialty meats, honey, herbs, grains, artisan breads and pies, eggs and coffee for over 20 years. The market takes place at Minor Park (just east of Holmes on Red Bridge Road) which is also home to an excellent series of bike trails. Saturday hours are from 8 a.m. to 12:30 p.m., and the market is also open Wednesdays from 10 a.m. to 2 p.m.
Another South KC farmers market that has been going for 20 years strong is the Lee's Summit farmers market, (Second and Douglas streets in downtown Lee's Summit), which was named the No. 1 Farmers Market in Missouri two years in a row in a contest held by American Farmland Trust.
The market includes 50 vendors and several artists and craftsmen. The market is open from 7 a.m. until sellout Saturdays and Wednesdays. Those who prefer to sleep in on weekends should instead head to Badseed, an indoor farmers market in the Crossroads at 1909 McGee St., which is open from 4 p.m. to 9 p.m. each Friday. Badseed has an impressive lineup of vendors each week, and the owners own their own farm just outside Kansas City.
Also in Missouri are markets in Grandview, Independence, Liberty and North Kansas City.
On the Kansas side, a personal favorite is the Overland Park Farmers' Market, which includes 70 vendors beneath and around the shelter at 7950 Marty St. Downtown Overland Park is a thriving area in which its possible to walk from a record store (Vinyl Renaissance) to a store specializing in olive oil (The Tasteful Olive), to a bakery (Upper Crust) to a store with dozens of bird houses (Wild Bird House), to give just a small sampling.
The area is also packed with delicious ethnic and American eateries. See downtownop.org for a full listing of businesses. Visit the market starting at 6:30 a.m. Saturday and 7:30 a.m. Sunday.
Other Johnson County markets include two locations in Olathe, a market in Merriam that often features concerts, and a traditional farmers market in Shawnee.
Big Picnic
If you've stocked up at the farmers market and aren't sure where to sample your purchases, head over to Kansas City's Big Picnic on the lawn of the Nelson-Atkins Museum and adjoining Theis Park from 5 p.m. to 8 p.m. July 20. Ice cream, badminton, artwork and giant puppets are just a few of the evening's activities.
Sir Paul
This week's concert lineup is a throwback to the late '70s, with Journey and Steve Miller Band at Starlight on Monday, Sir Paul McCartney at the Sprint Center on Wednesday, Pat Benatar and Rick Springfield at Starlight on Wednesday, and Steely Dan at Starlight on Saturday.
Next week: A look at some of Kansas City's most interesting under-the-radar art exhibits.
— Lucas Wetzel is a writer and editor from Kansas City, Mo. Know of an upcoming event in Kansas City you'd like to see featured in Kansas City Connection? Email us about it at kcconnection@ljworld.com.