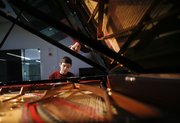 If you go
The International Institute for Young Musicians International Piano Competition and Summer Music Academy is this month, with public recitals taking place at the Lied Center Pavilion.
Competition finals are scheduled from 3 to 9 p.m. Monday, including a performance by Lawrence resident Ulises Magaña de la Paz at 3:40 p.m.
The Winner's Concert will be 2 p.m. July 19, and tickets are $10 or free for children 8 and younger.
Additional recitals are scheduled through July 24. For a complete schedule, go online to iiym.com.
Honestly, Ulises Magaña de la Paz, 14, does not particularly like practicing the piano six to eight hours every day.
But wowing audiences and winning competitions? That's more like it.
So he practices. And practices. And practices some more.
"Practice isn't fun, but it's what you have to do to get to the fun," Ulises said. "You can't perform unless you practice, and practice the right way. I really like the end result."
Ulises is the only Lawrence resident to compete in this year's International Institute for Young Musicians International Piano Competition, which takes place on the Kansas University campus during the institute's Summer Music Academy. The competition and recitals run through July 24.
Ulises moved to Lawrence from Mexico four years ago with his mother and younger brother.
He said his mother, who has two sisters in Lawrence, wanted him to learn English and have more cultural opportunities than their industrial home city of León — where he started piano lessons at age 8 — could offer.
Here, Ulises signed up for lessons with the niece of a woman whose house his aunt cleaned, a KU graduate teaching assistant who, he said, showed him that piano was fun. Lassoing the interests of a 10-year-old boy, she took him outside and bounced soccer or basketballs to create analogies for how movement affects sound when playing the piano, too.
When Scott McBride Smith, Cordelia Brown Murphy Professor of Piano Pedagogy at KU and director of the International Institute for Young Musicians, accepted him as a student, Ulises was still behind others his age.
But Smith immediately saw promise.
"You might describe it as charisma ... he just has a way of getting people to listen to him," Smith said. "It's hard to teach that."
Ulises said Smith made clear from the start that if he really wanted to do this, he was going to have to put in "lots and lots of time."
Smith entered Ulises in the Music Teachers National Association competition thinking it would be a good trial run. Ulises became the state champion. He repeated the win the following year, and went on to the national finals.
During the school year, practice took up four to five hours a day. With summer here and the International Institute for Young Musicians competition approaching, he increased practice time to six to eight hours a day.
Ulises has a small grand piano — the smallest kind you can get — in his family's apartment. Out of politeness to the neighbors, he said, he also practices at Smith's house and other studios in town.
Unlike some high-level piano students' whose love for performance seems to come more from their parents, Smith said Ulises' is his own. He said as long as Ulises follows his dream, his future is bright.